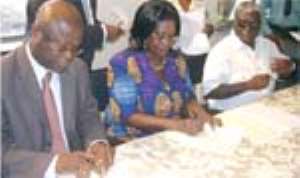 NEW CHARTERS to ensure that public institutions provide prompt and efficient services to members of the public have been launched for some 24 ministries, departments and agencies (MDAs) in Accra.
The fourth in a series, a launching ceremony was held Tuesday to commence this new opportunity for clients to call at the 24 institutions to closely monitor their services and make complaints if they are exploited.
These anti-corruption and good governance measures introduced by President John Agyekum Kufuor in October last year will be reviewed every 12 to 18 months internally and after 2 or 3 years by an external body.
"You have determined the service delivery benchmarks after going through a process of assessment of what is possible, given the circumstances of your institutions.
There should therefore be no excuse for non-performance," said Mary Chinery-Hesse, a Special Advisor to the President who launched the charters Tuesday.
"I wish to renew my appeal to the public to make full use of the complaints machinery in order to keep the public service institutions on their toes," she added.
Mrs. Chinery-Hesse also urged the charter unit of the Ministry of Public Sector Reform to step up monitoring and evaluation visits to keep an eye on the compliance of institutions which have already launched their charters.
To encourage strict compliance among MDAs, she noted that a performance ranking table would be published periodically to reward high-performing institutions and sanction non-performers.
Dr Boeh-Ocansey, Chief Executive of the Private Enterprises Foundation (PEF), said though it is often said that the private sector is the engine of growth, its success can only materialize when the public sector delivers results-oriented customer-centered services.
With the endorsement of the charters, members of the public who may be exploited by any public institution have been asked to instantly report to authorities of the institutions or to a specially-constituted Central Complaints Centre at the office of the President through the following telephone lines: 021-684086, 021-671359 or 021-672333.
By Samuel Boadi