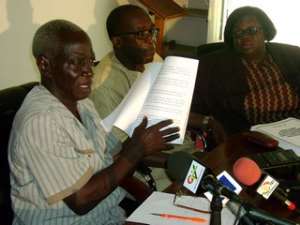 The Electoral Commission says discrepancies in the Voters' Register as pointed out by the National Democratic Congress, emanated from its offices but explains that the NDC was wrong to call the register 'bloated' because that suggested a deliberate addition of names for obvious gains.
According to Mr. Owusu Opare, Director of Public Affairs at the EC, the difference in figures occurred between the statistical version of the register and the compact version which were supplied to the NDC upon request and that the master register was intact.
Speaking on Joy FM's Super Morning Show, Mr. Opare, said the doubling of figures in 13 constituencies of the Ashanti Region in the statistical version of the register from which the EC generates its master database, was caused by an operational error and assured that recommendations by the committee that investigated the problem would be implemented to ensure the sanctity of operations of the Commissions IT Department.
Nana Ohene Ntow, General Secretary of the New Patriotic Party who was also on the programme, said that at an Inter-Party Advisory Committee (IPAC) meeting on Tuesday, the parties unanimously accepted the conclusion that the voters register was not bloated arrived at by the seven-member committee set up by the EC to investigate the alleged inflated figures.
Nana Ohene Ntow, quoting the EC's head of IT from the report, said 'the term bloating in a voters register implied addition of names'.
While not claiming to be an expert on statistics or IT, Nana Ohene Ntow said "I'm dealing with this matter on the face of the semantics or the language that this man is using. My understanding then is that you can somehow differentiate between the register as such with names and statistical summaries where statistical summaries would be only numbers or basically numbers… So you can have a register with names and possibly pictures that is, say, one million."
"Then you can ask for a statistical summary of a voters' register that contains one million names and one million faces and get let's say, two million, (2,000,000). It does not necessarily mean that if you go to the register you would find two million names. That there could be some mechanical operation, computer operation, statistical operation, … which clearly is an error, that could have resulted in producing a statistical number of two million in reference to a register of one million names and faces. Now if you go back to the register and you find that a register that is supposed to have one million names and faces now has two million names and faces, then I am thinking that then you can talk about bloating, otherwise let's look at what really caused that error. How come you have one million names and faces, you want to generate the statistics of that one million names and faces and the figure comes two million? That is the gap, the technical gap, the operational gap that I as a layman haven't been satisfactorily appraised for me to understand what happened."