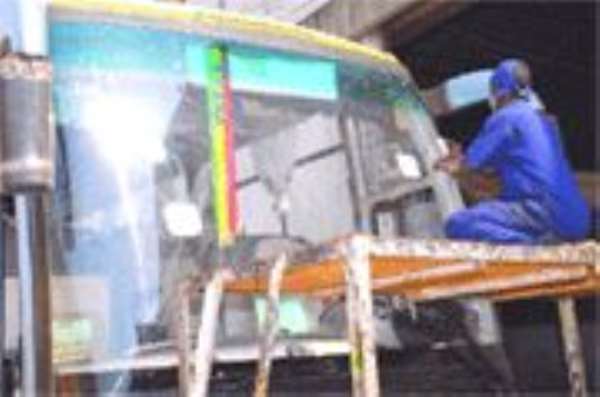 A suspected armed robber was shot dead when two gunmen attacked an Inter-City/STC Coaches Limited bus travelling from Ougadougou, Burkina Faso, at Nasia near Walewale in the Northern Region.
The plain-clothes police officer accompanying the bus who shot the assailant also retrieved from him a fully loaded AK 47 rifle. The accomplice of the deceased, who was also armed, is, however, on the run.Two persons on the bus, both Burkinabes, sustained injuries in the attack.

They were rushed to the Tamale Teaching Hospital where one of them was treated and discharged, while the other, said to be in critical condition, is on admission.

According to Mahamadu Musah, a passenger on the bus with registration number GR 9037 X, the incident occurred when they were on their way to Accra.

He said on reaching the spot, they spotted the two masked men who signalled the driver to stop. When the driver was reluctant, the robbers opened fire thus compelling the bus to stop.

Musah said the robbers then approached the bus and asked the driver to open the door. When the driver was again hesitant, they fired into the bus injuring the two passengers in the process.

"It was at this stage that the plain-clothes policeman accompanying the bus also fired at them, killing one of them instantly."

The Northern Regional Police Public Relations Officer, Mr Albert Johnson, confirmed the story and said the police had mounted a search for the other robber.

When contacted, the Managing Director of Inter-City/STC Coaches Limited Mr Kwabena Adjei-Seffah, said this latest incident was the ninth time their bus had been attacked by armed robbers since January, this year.

He said three of the attacks happened on the Techiman-Kintampo-Wa route. One occurred around Bamboi on the Wa-Accra road, while the other two, including the latest attack, was on the Walewale highway.

In all those cases, however, none of the passengers were injured following the alertness and bravery of the police officers who always accompany InterCity/STC Coaches Limited bus passengers to their destinations, Mr Adjei-Seffah said.

He thanked the police for their effective collaboration that had helped to protect life and property.

Story by Zakaria Alhassan