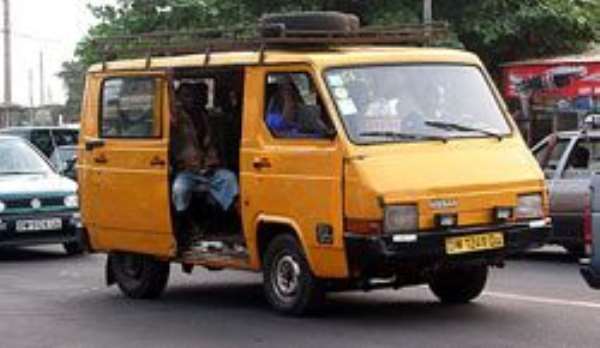 Have you noticed how nearly everyone has crafted ways to make extra cash from one another? It is disheartening.
Times were when trotros operated just as their name determined; taking passengers from one stop to the other and taking money reasonable enough for the distance. They made their money (or sales as they now prefer) by hauling passengers from all stops along their chosen routes, and no one complained.
Now the trotro drivers are also into making extra money, and it is not as though they are now starting the discomforting behaviour, it is the institutionalisation of the 'scheme' that irks so much.
These days, a Banana Inn-bound trotro from Kwame Nkrumah Circle will take GHp40 from you, and you can choose to alight, or drop at anywhere on the route, such as at the Obetsebi Lamptey roundabout or Korle-bu – halfway through the distance – and you do so at your own pleasure. They will do same taking GHp35 from you between La (Labadi) and Kwame Nkrumah Circle and you can drop at Labone Junction, Danquah First, Danquah Second, Fire Service or GBC, the fare is the same.
The minute you get down, the aplanke (driver's mate) gets busy looking for a replacement for your vacant seat! And what they do, (aplanke plus driver) is what gets your blood running hot and adrenalin high.
Frustrating journey
The driver will stop (almost parking) at every available bus stop or where there are people walking by the roadside, while the mate yells out his entrails all in the name of 'crying his wares'.
They do not only waste your time, (irritatingly so if you are running late to be somewhere) but they cheat you, test your patience and inconvenience you. (Meanwhile they have taken a sum which conditions that they take you to your destination without necessarily looking for top-ups on the way.)
And while they do this, they do not care what your concerns are. Why would they bother to seek your indulgence in order to fleece you? They do it at will, and you may as well go burn the sea. (Sorry Minister Asamoah Boateng, I only borrowed your message to Amoako Tuffuor).
The practice has seen several fisticuffs between passengers and drivers' mates, with commuters demanding what they believe is 'fair change' while the mates insist a station car must take the full fare.
The other day it was a man (by his slang and comportment, a Ghanaian who had 'overstayed' America) who refused to take the change from his GHc1 he gave to pay for his journey from Accra's Tema Station to Accra New Town. He was boiling, and simply asked the mate to "go feed your family with the money you are stealing, you crook." He said too many other things you do not want to read here!
Obviously the two cannot be wrong, but who is right here?
Author: Isaac Yeboah