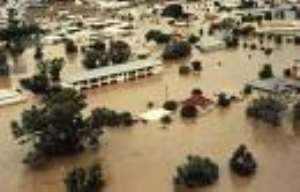 Four hundred and seventy six households in
six communities affected by floods in the Bunkprugu –Yunyoo District
of the Northern Region are being assisted to farm this year.
Each household is being given a total of 165 Ghana Cedis to
purchase seed for sowing and grains to feed on during the farming season.
They are also encouraged to use part of the money to buy poultry or domestic animals for rearing.
The 10-Month programme is being carried out by CARE International
and Action Aid Ghana and sponsored by the Department for International Development (DFID).
Mr. Emmanuel Akansige, Project Manager, CARE International, in an
interview with the Ghana News Agency in Bolgatanga on Wednesday said the programme covered other Districts of the Northern Region, Upper East and
Upper West and was meant to help households that suffered most during the
floods to farm and be able to take care of themselves.
He said, due to the destruction caused by the floods, some households
had nothing left and were only coping with one meal a day, migrating to
other places in search of work or hiring themselves out as day labourers
which could not sustain them.
He said half of the beneficiaries identified as very poor would also
be given 15 Ghana Cedis to register under the National Health Insurance
Scheme (NHIS) to enable them to access health care.
The beneficiary communities include Tobont, Kolik, Moshio, Pulok,
Temma and Buaterigu.
Some of the other areas to benefit are Langbinsi, Nalerigu, both in
the East Mamprusi District 15 communities in Lawra District in the Upper
West Region, Garu-Tempane District and Builsa District in the Upper East
Region.
The Northern Sector of the country, in August and September 2007 was affected by floods that damaged about 70,500 hectares of cultivable land and destroyed 144,000 metric tones of food. Roads, bridges and dams were also damaged.