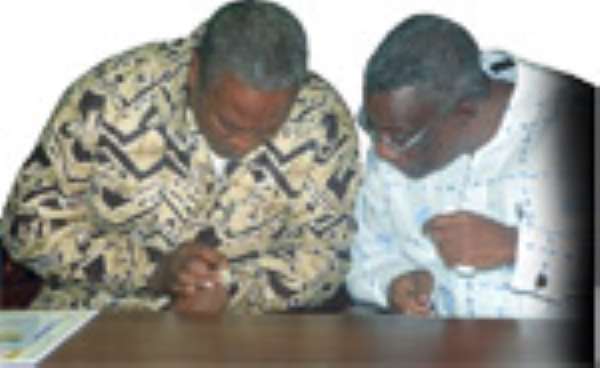 KPEMBEWURA IBRAHIM Haruna Kibashi I, Paramount Chief of Kpembe in the Salaga District of the Northern Region has stated that the nomination of Mr. John Dramani Mahama as running mate to Prof. John Atta Mills is a good omen for the Northern Region as far as its development agenda is concerned.
He has therefore called on the people of the North to rally behind the duo - Prof. Mills and Mahama - and vote massively for the National Democratic Congress (NDC) in the December 7 elections.
The Kpembewura made the remarks when NDC officials, led by Mr. Johnson Asiedu-Nketiah, the General-Secretary, paid a courtesy call on him to formally introduce Mr. Mahama to the chief and people of Kpembe.
Other members of the entourage were Alhaji Huudu Yahaya, a Vice Chairman of the party, Mr. Haruna Iddrisu, Member of Parliament for Tamale South, Ibrahim Tanko, MP for Yagabai/Kubori, Alhaji Sumani Zakari, Northern Regional Constituency Chairman, Mr. Ibrahim Adams, former Agric Minister in the NDC government and some Northern Regional executive members.
According to the Kpembewura, who was once a Minister of State in the Dr. Hilla Limann administration, when he said the development gap between the North and South would take about 80 years to bridge, Ghanaians, especially politicians did not agree with him.
"Today I'm vindicated because the development gap between the north and south had still not been bridged.
Our schools have been closed down and we expect students of the north to compete with their counterparts in the south in the same examinations."
He expressed gladness about Mr. Mahama's nomination and prayed that Ghanaians would find him suitable to help Prof. Mills to bring the needed change Ghanaians were clamouring for.
The Kpembe paramount chief urged political parties to go about their activities with decorum so that the country would still stand united after the polls.
The Bole/Bamboi MP promised to complete the road leading to Salaga which was started by the NDC government, should the NDC come back to power, and assured the chief and the people that attention would be given to rice production in the area as a way of creating jobs for the youth.
Mr. Mahama and his team as well visited the Yagbonwura at Damongo in the West Gonja District where he introduced Mr. Samuel Wusah, the NDC parliamentary candidate.
In Tamale, the Regent of Tamale, Gulkpegu Naa Gbanglana symbolically handed over the electoral fortunes in Tamale in particular and the Northern Region in general to the National Democratic Congress (NDC) and told the party not to bother to campaign in the region.
The Northern Region, he added, had demonstrated to the NDC its preparedness to vote for the party come December 7.
Mr. Mahama and his entourage later visited Bimbilla where they paid a courtesy call on the Bimbilla Naa, Abdulai Dasani Andani as well as Yendi, all in the Northern Region.
From Wisdom Peter Awuku, Kpembe-Salaga