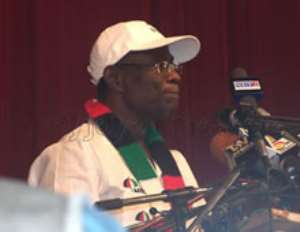 Professor John Evans Atta Mills, flag bearer of the National Democratic Congress (NDC), on Tuesday said what the people need at the present time is meaningful change in their standard of living.
He was addressing separate community durbars during the second phase of his campaign tour of the Western Region.
The four-day tour took him to about 14 communities in the Amenfi Central, Amenfi East, Prestea-Huni-Valley and Tarkwa-Nsuaem constituencies.
The communities included Amenfi Agona, Manso Amenfi, Bawdie, Nananko, Wassa Akropong, Opon Valley. Bogoso, Prestea, Awudua, Huni Valley, Tarkwa and Nsuaem.
Prof. Atta Mills said the concept of positive change cannot hold because of the rising cost of living in the country.
He said an NDC government would see to it that the people enjoyed appreciable standard than they are now doing.
Professor Atta Mills urged the people to give the NDC a chance to continue its good works.
He said the forthcoming elections were crucial to the development of the country because of the difficulties the people are going through and because
the country was moving backwards.

Professor Atta John Evans Atta Mills advised those who have decided not to vote because of the failure of the NPP to keep its electoral promises to rescind their decisions.
He said all Ghanaians, including those who have lost hope in politicians should make it a point to vote as that would decide the future of the country.
Professor Atta Mills further urged the people not to sell their votes and to decide on who to vote for based on their standard of living.
He said the resources of the country belonged to the people and should be used to improve their standard of living.
Professor Atta Mills said some politicians are setting bad examples and are using insults to score political points.
He said the country could be well governed through brotherly love, peace and God-fearing principles without resorting to insults.
He said members of the party were being discriminated against in some circles, adding that some, who are contractors were not being awarded contracts and some were at the risk of losing their jobs.
Professor Atta Mills said he would be a President for all Ghanaians and national resources would be equitably distributed, irrespective of political affiliations.

Dr. John Frank Abu, Western Regional Chairman of the NDC said Prof. Atta Mills would live up to the task when he is elected president, adding that he is humble, loving and hardworking and would be the people's President.