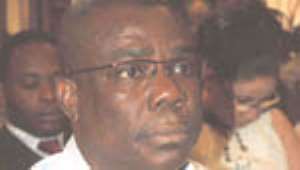 THE NEW Patriotic Party (NPP) would officially outdoor its manifesto for the upcoming general elections in August, a leading member of the party has announced.
"NPP's manifesto which stresses on the party's vision for the coming elections would come out in August, 2008 at the party's national conference," Dr. Owusu Afriyie Akoto, Head of the NPP Manifesto Committee disclosed in an interview in Kumasi.
There have been grave concerns by a section of the ruling party's faithful over when the NPP would officially make public its manifesto for the coming polls.
With the disclosure it is hoped that the minds of anxious members of the party would be put to rest.
The manifesto would expatiate the ruling party's vision and direction for the country in the coming four years and as well state why the electorate should give the party another term in office.

According to Dr. Akoto the leadership of NPP was currently soliciting the views of all its stakeholders before coming out with a sandwiched manifesto which would touch on every socio-economic aspect.
He hinted that the party's manifesto, when outdoored, would focus on the track record of the NPP government and the new effective mechanisms that Nana Akuffo Addo, the party's flagbearer could bring to transform the country.
"It is an undeniable fact that the President Kufuor-led NPP government has performed excellently, therefore ideally the party's manifesto would highlight the government's achievements and Nana Addo's exceptional vision for Ghana," Dr. Akoto intimated.
He did not share the views of those who said the time of bringing out the manifesto was not right and that it would have adverse effects on the party, saying "from August to December is not too late a time for us to make public our manifesto.
Advertisement
"If you take a critical look at the track record of all the political parties in the country you would realize that they always bring out their manifesto three months before the elections."
According to Dr. Akoto the party was yet to embark on full scale campaign, indicating that Nana Addo's recent trips across the country was meant to "just introduce the flagbearer to the electorate".
To him the party's real campaign begins after the August National Conference, an occasion which is expected to be used to make public the party's manifesto for the election.
He was optimistic about the party's chances in the polls, stressing that "after the good works of President Kufuor the electorate would surely vote massively to retain the NPP in power for Nana Addo to lead the country to prosperity within a short time".
Dr. Akoto who is NPP's Parliamentary Candidate for Kwadaso Constituency promised to retain the seat for the party, vowing to win about 95 percent of the total votes in the constituency.
From Fred J.A. Ibrahim Jnr., Kumasi