Ghana's Isabel makes history at Spelling Bee Contest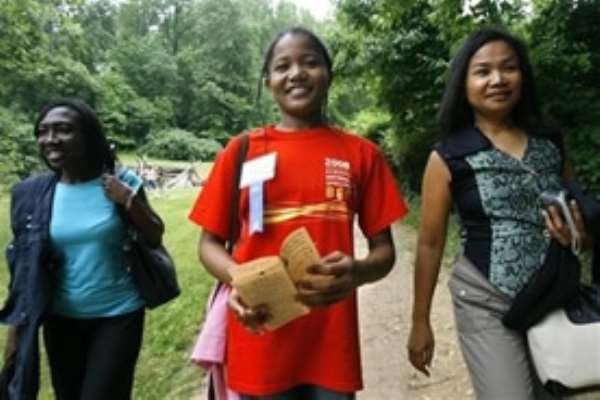 Thirteen-year-old Maria Isabel Yirebatiya Kubabom of the SOS Herman Gmeinner School in Tema is all ready to go into battle with 287 other kids in the 2008 Scripps national spelling bee currently on-going in Washington DC, USA.
After making history as the first ever champion speller representing a sponsor from Africa, Isabel and her team are looking forward to another first with a possible qualification to the semi-finals and finals after Thursday's round of competition.
At stake is a $30,000 cash prize, an engraved loving cup trophy, a $2,500 US Savings Bond and a complete reference library for the winner. There is also an extra $5,000 in cash from the Sigma Phi Epsilon Educational Foundation and reference works valued at more than $3,800 from Encyclopædia Britannica.
Entered into the competition by the dailyEXPRESS Newspaper, Ghana's only FREE newspaper, which has the franchise for the Scripps spelling bee in Ghana, Isabel and her coach Evangeline Bortey also from SOS have since Monday May 26th being in the States taking part in a number of activities heralding the international finals.
Accompanying Isabel is her mother, Mrs. Marian Kubabom and the Country Manager of the [dailyEXPRESS sponsored] Spelling Bee Ghana, Eugenia Appiah.
Ghana is the African country to present a representative, but there are other firsts in this year's competition, which is the 81st edition. South Korea and Ghana are represented for the first time, joining spellers from Canada, Jamaica, Germany, the Bahamas and New Zealand — plus the U.S. territories of Guam, Puerto Rico and American Samoa, reports the Associated Press.
All will compete in Thursday's preliminary round, with the top spellers moving to the nationally televised elimination rounds on Friday. For the third consecutive year, the champion will be crowned on prime time TV viewing time on ABC and ESPN.
International competitors have been part of the bee for three decades, and two winners have come from outside the 50 states: Hugh Tosteson of Puerto Rico in 1975 and Jody-Anne Maxwell of Jamaica in 1998. Canada's Nate Gartke was last year's runner-up.
Isabel, an eighth grader at SOS Hermann Gmeiner School beat twenty-nine other contestants to snatch the Champion speller title at the Ghana Finals last March. The event was co-sponsored by Tigo, DStv, Fidelity Bank, JoyFM, Junior Graphic and Silicon House Productions.