May 27, 2008
|
General News
Japan-African Forum Begins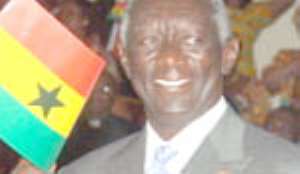 FROM tomorrow, 28 to 30 May, the government of Japan, under the auspices of the United Nations and the World Bank, will host President John Agyekum Kufuor and 32 African countries to TICAD IV in Yokohama.
TICAD IV is the fourth meeting of the Tokyo International Conference on African Development which that government announced it would use to provide assistance to African countries in seven main areas.
With the theme of the conference as 'Towards a Vibrant Africa – A Continent of Hope and Opportunity', the government of Japan intends to collaborate with its Overseas Development Agencies (ODA) to tackle infrastructural, trade, investment, agricultural and other economic problems facing the African continent. These issues will top the agenda of the meeting.
Documents available to DAILY GUIDE show that also topping the agenda are issues of health care, education, peace building, humanitarian reconstruction development and issues related to climate change.
The outcome of TICAD IV would then be raised at the upcoming G8 summit in Touyako Hokkaido later in July this year, to which President Kufuor has been invited.
TICAD was formed in 1993 at a time when the international community's interest in Africa was starting to wane, and donor fatigue was setting in.
Since then, the conference has been held once every five years in Japan. Tomorrow's meeting would be the first occasion it is being held outside Tokyo.
Already, the government of Japan has announced in its media the seven top priority areas, which are road networks, electricity, agriculture and farm village development, tuberculosis, malaria, women and children health issues, education, safe drinking water, and peace building. President Kufuor arrived in Tokyo yesterday after a brief stop-over in London.
He attended his first TICAD summit in Tokyo in October 2003 (TICARD III), where he presented a paper on "TICAD and the Way Forward: An African Perspective".
He is expected to make a case in support of the themes.
Especially, he will push for accelerated economic growth, increased partnership and assistance to achieve the Millennium Development Goals and prevention of conflicts on the continent, the key agenda when he was African Union (AU) chairman.
Diplomacy
Japan recognised Ghana as a state on March 6, 1957, but to date, only 295 Japanese nationals reside in Ghana (October 2006 figures).
Japanese companies import from Ghana items such as cocoa, and marine products as squid and octopus, amounting to 9,287 million yen; while Ghana imports from Japan automobiles, tyre tube, machinery and others worth 10,559 million yen.
Since 1989, direct investment from Japan totals 300 million yen, while economic cooperation has yielded loans of 125 million yen, grants of 71 million yen and technical co-operation of 34 million yen.
The port city of Yokohama, which is hosting the event, is Japan's second largest city with a population of 3.6 million people.
President Kufuor will leave for Cape Town, South Africa to address the World Economic Forum on Africa at the end of tomorrow's meeting, on Saturday.
The World Economic Forum is a platform for addressing crucial economic and business issues in Africa and sharing of experiences on current trends in the world economy.
From Gina Blay, Yokohama, Japan