Otto Pfister In Court For Fraud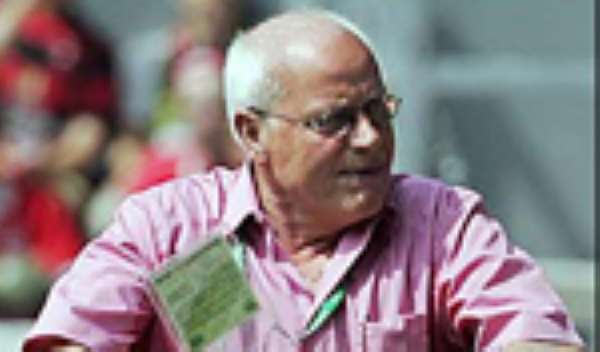 Coach of the Indomitable Lions of Cameroon, Otto Pfister was last Wednesday summoned to appear before a Cameroonian court for breach of trust and fraud.
Reports reaching DAILY GUIDE SPORTS indicated that the complainant, Fernand Taninche, a Cameroonian, claimed that he facilitated the recruitment of the German Coach in October 2007 for a fee.
According to the complainant, Otto Pfister had so far refused to comply with his commitments. "I filed a complaint for breach of trust and fraud which are punishable under the civil code in Cameroon because we had an agreement signed by both parties".
Mr. Taninche stated that he was supposed to have received from the coach a sum of 34 Million CFA Francs equivalent to $68, 000, to date, after a successful negotiation with both Otto Pfister and his son, Mike Pfister, who witnessed the agreement.
"Otto Pfister promised to pay 20 percent to me of all his gains for the duration of his contract in Cameroon," he complained.
He explained that all efforts to convince Cameroonian authorities to channel the money directly to him had proved futile; therefore he was compelled to go to court to seek redress.
It would be recalled that when Cameroonian authorities needed a coach, over 80 coaches applied for the job but only five including Otto Pfister were short-listed, and later the German was given the nod as the Indomitable Lions' coach.
He guided the team to second place in the 2008 Africa Nations Cup held in Ghana.
By Pierre Toto