Ghana Rakes $577m From Minerals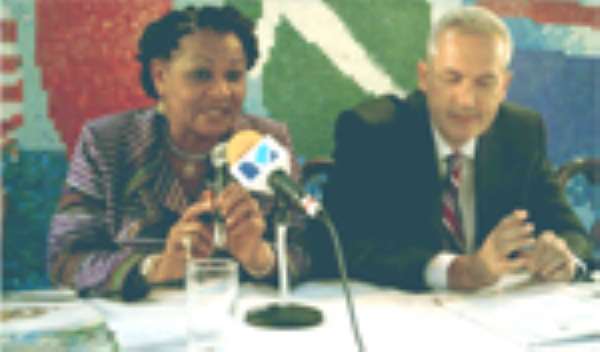 Minerals revenue went up by 17 percent in the first quarter of this year, according to statistics from the Ghana Chamber of Mines.
The revenue was up $577.9 million compared to $493 million registered in the last three months of 2007.
The Chamber attributed the increase in revenue to high prices of gold on the world market and marginal growth in production output.
Despite a decline in shipments from 417,503 tonnes to 233,252 tonnes in the first quarter, manganese exports raked in $13.4 million, compared to $10.0 million for the corresponding period in 2007.
On the other hand, diamond revenue declined by 10 percent in the first quarter at $6.8 million, but showed a significant improvement of 42 percent over revenues in the fourth quarter of 2007.
Similarly, Bauxite revenue fell by 31 percent on account of lower shipments from the ports.
Meanwhile, Chief Executive Officer of the Ghana Chamber of Mines, Ms. Joyce Aryee has disclosed to CITY&BUSINESS GUIDE the amount of money that went into the 'Airborne Geophysical Survey' project, also known as the Strategic Environmental Assessment (SEA), in the Volta Basin.
According to Ms Aryee, the Ghana government received a total sum of 40 million Euros from the European Union (EU) in support of the project.
SEA, which was undertaken in multiple phases, assessed the geographic area of the Volta Basin for possibly untapped mineral resources.
Although the project has been completed, Aryee said the Minerals Commission was still working on the available data and plans to release it soon for public consumption.
In his remarks during the launch of the Chamber's 80th anniversary in Accra, president of the Chamber, Jurgen Eijgendaal noted that in order to reduce the cost of doing business in Ghana, stakeholders in the mining industry should create enabling environment through the provision of right policies and infrastructural development in affected communities.
By Nathaniel Y.Yankson