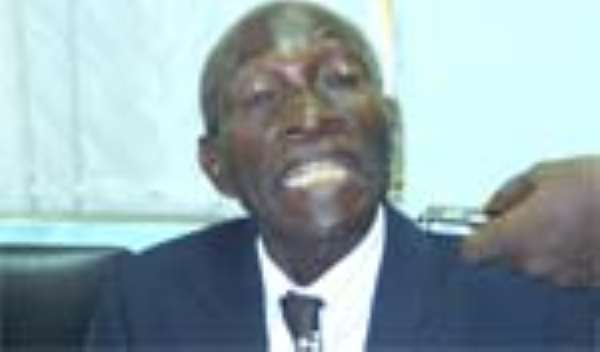 NANA ATTA Ofori IV, Abakomahene of Agona Kwanyako in the Central Region, yesterday announced his decision to contest the December general elections as an independent presidential candidate.
The presidential hopeful, known in private life as James Kwame Manfo Anyanful was alone at his press launch and looked so crestfallen that he literally begged reporters who had been assigned to cover the programme to volunteer to chair the meeting.
Eventually, a reporter from DAILY GUIDE volunteered to be the chairman.
The presidential hopeful looked old and frail, and his hands were visibly shaking as he stood behind the podium to read his 14-paged press statement.
The old man refused to mention his age but said he is a pensioner and the Treasurer of the Ghana Government Pensioners Association, Zone 18 Dansoman and also the National Secretary of the CSIR Pensioners Association.
Asked why he was alone and if his family members were aware he had embarked on a presidential campaign, Mr. Anyanful said that question was very personal and he would not answer it.
Mr. Anyanful said his campaign symbol would be a handshake and the slogan would be 'leadership by example' with the response 'do as you say'.
The presidential hopeful said he was yet to come up with a political ideology or philosophy but had already drawn a budget for his campaign, which would cost a total of GH¢60,000.
The old man said he was yet to get a campaign office but provided a cell phone number and called on Ghanaians who want to donate money to support his campaign to call that number and tell him where to come for the money.
He said he would soon open an account at the Ghana Commercial Bank and that the account's name would be "Vote Anyanful President Campaign Fund 2008", for Ghanaians to put some more money into that account.
"There would be no room for Country Club House type of leadership whereby everybody is left to do what he pleases.
I shall use the 'carrot and stick' style, whereby if you do well, you are given a carrot (commended), bread, we should say, and if you do badly, you are given some strokes of the stick (you are sanctioned)", he noted.
Mr. Anyanful promised that under his presidency, it is only parliamentarians who would elect the president of the country and said District Assembly members in the respective constituencies would elect their Members of Parliament.
"The reform will enable all highly qualified Ghanaians who wish to serve as President to do so. Such persons could come from the private sector or the public sector.
The Council of State shall do a short-listing, should it be necessary.
It would also be less prone to election results disputes, in addition to being cost-effective for contestants and the State represented by Electoral Commission," Mr. Anyanful explained.
He said the Constitution only speaks against chiefs who take part in partisan politics and because he would be contesting as an independent candidate, that had nothing to do with partisan politics.
The old man, while reading his Curriculum Vitae, said he had vast international experience because he had traveled to many countries including Tunis where he white-washed the walls of a hospital, Manchester in the UK where he worked on a playground for children, and Durham also in the UK, where he worked on the rehabilitation of a house for the aged.
By Halifax Ansah-Addo