Four Ambassadors, High Commissioner present letters to Kufuor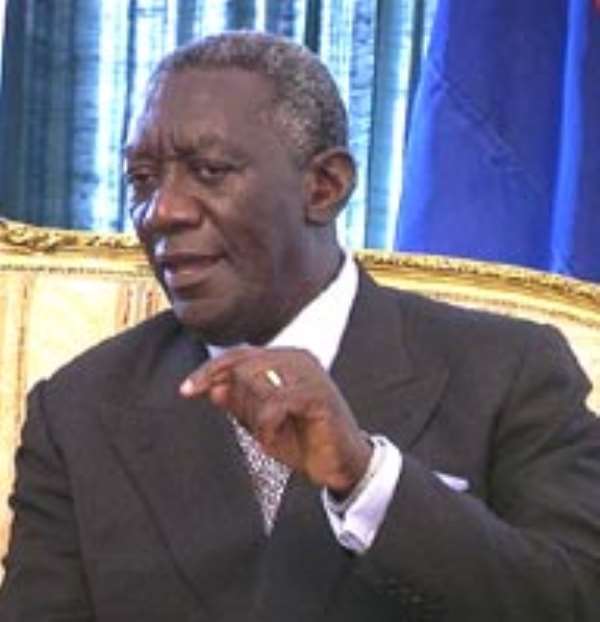 President John Agyekum Kufuor on Thursday
received the Letters of Credence of four new Ambassadors and a High
Commissioner appointed to Ghana.
They are Mr. Musiliu Obanikoro, Nigerian High Commissioner, Mr. Obama
Nsue Mangue, Ambassador, Equatorial Guinea, Mr. Kyle O'Sullivan, Ambassador
of Ireland, Mr Awad Mursi Taha, Sudanese Ambassador and Mr Mohamed Oli Omaro, Eritrean Ambassador.
All, except the High Commissioner of Nigeria, would be based in Abuja.
President Kufuor noted that Ghana and Nigeria played a key role in the peace and economic stability of the West African sub-region and therefore reminded Mr Obanikoro to ensure that the two countries worked together.
He said relations between them had been good and productive and they must continue to build on it.
The High Commissioner, who described Ghana as "home", pledged to do everything possible to raise the friendly ties and co-operation to new heights.
At the turn of the Ambassador of Equatorial Guinea, President Kufuor said the two nations were relating well and this was evident from the high number of students from that country in Ghana pursuing academic courses.
He said he was hopeful that other interests would be nurtured for their mutual benefit and assured Mr Mangue of co-operation and support to enable him to perform.
The Ambassador said he was eager to see the Ghana-Equatorial Guinea Joint Commission re-activated to enhance economic co-operation.
Mr O'Sullivan was the next to call and President Kufuor acknowledged how supportive Ireland was proving to be and said there was every reason that the two countries worked together closely.
President Kufuor said the absence of a permanent mission of Ireland in Accra was a drawback, which the Ambassador must help to address.
Mr O'Sullivan was happy with the relations between Ghana and Ireland and promised to work to ensure that they opened permanent missions in each other's country.
When Mr Taha took his turn to present his Letter, President Kufuor called for sincere commitment to dialogue by all factions to the Darfur crisis to help the country to be at peace with itself.
It was through this that the prosperity of the nation would rebound to the benefit of everyone there.
He observed that unless they agreed to sit down and talked, efforts by the international peace-keeping force could prove to be difficult.
Mr Taha earlier had spoken of the need for international pressure to be brought to bear on the Darfur factions to dialogue for peaceful political settlement of the crisis.
The Eritrean Ambassador said his country wanted to deepen its relations with Ghana and therefore had been instructed to work towards that.
President Kufuor said he looked forward to improving relations between Ghana and Eritrea.