Man, 24, Arrested Over Dansoman Murder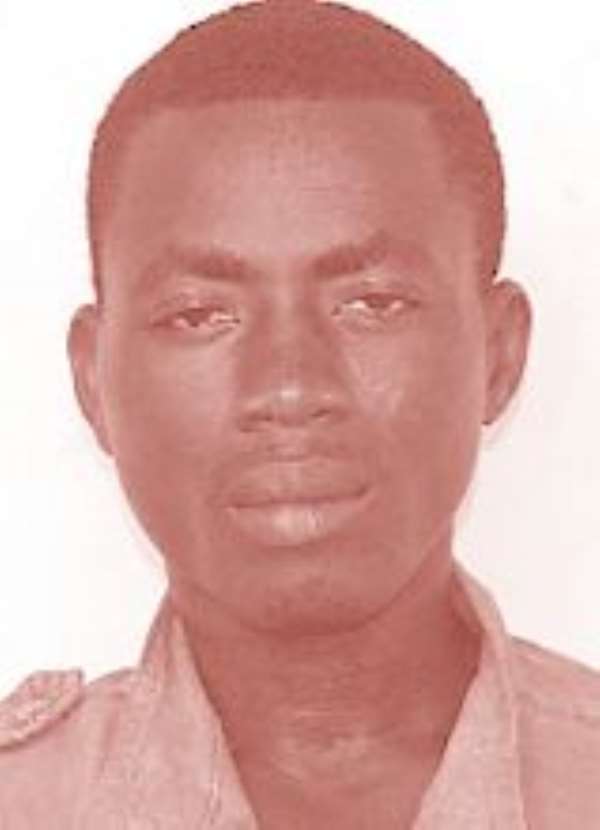 A 24-year-old unemployed man who allegedly murdered a 72-year-old pensioner has been arrested by the Dansoman Police.
The suspect, Samuel Ayeh Asare, alias K.B., was said to have killed Mr Emmanuel Kwasi Ayeh on February 29, 2008, after robbing him of his money at his residence at Zodiac, Dansoman.

According to the Dansoman District Police Commander, Superintendent Alex Yartey-Tawiah, Asare had confessed to his complicity in the crime and named his accomplice, who is being sought for by the police.

Throwing more light on the case, Supt Yartey-Tawiah said when Mr Ayeh, who was a cancer patient, returned home from hospital around 1.00 p.m. on February 29, this year, he saw the door of his house ajar, while some people were moving about there.

He said as Mr Ayeh's wife had travelled, he thought his daughter was the one moving about so he called her but there was no response.

He said no sooner had Mr Ayeh entered his bedroom than the two suspected criminals traced him there, tied his neck, hands and legs with wires and pieces of cloth and strangled him.

The district commander stated that as there was nobody in the house, the dead body lay there until late in the evening when a material witness found it and raised an alarm, which attracted a large number of people to the place, some of whom reported the matter to the police.

He said police investigations revealed that Asare, who happened to be the deceased's step grandson, killed the man and went into hiding.

According to him, the police trailed Asare to Adukrom Akuapem and Agona Swedru but to no avail, until he was arrested at hideout at Kasoa on Wednesday upon a tip-off and through meticulous investigations by the Dansoman Police Command.

Supt Yartey-Tawiah said when Asare was interrogated, he broke down and confessed his complicity in the crime.

He said the suspect named his accomplice, but the name is being withheld for security reasons.

Asare was said to have mentioned the items they stole from the deceased bedroom as a blender, a hand drier, perfume, men and ladies' clothes, as well as GH¢230 cash.

According to Supt Yartey-Tawiah, Asare said he had been disappointed with the little money they got from Mr Ayeh, as he knew him to be a rich man.

He said the suspect mentioned the receiver of the stolen items and led the police to his residence to arrest him.

The district commander stated that investigations were on course and all those involved in the matter would be put before court.

He assured residents of Dansoman that the police would give them protection and, therefore, appealed to them to volunteer information leading to the arrest of suspicious characters in the area, saying that the identities of such informants would be kept secret.

Story by Samuel Kyei Boateng