FonTV rolls out in Ghana …in historic first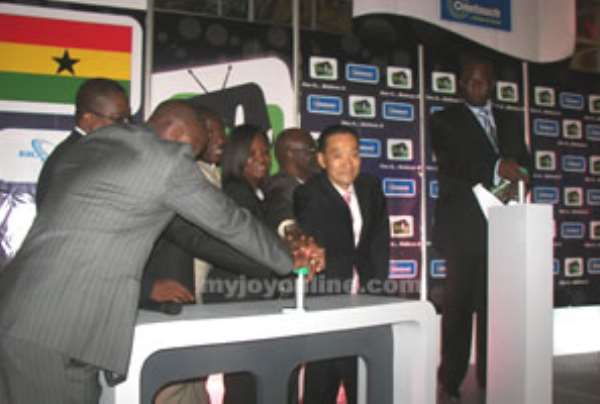 Television viewing just got better in Ghana, with the launch Wednesday evening of Africa's first mobile phone-enabled television content viewing service, FonTv.
Operators, Black Star Television, announced at an august gathering at the Accra International Conference Centre, venue of the launch, that the FonTv service is already deployed nationwide for full scale commercial operation after nearly a year of test transmission produced excellent results.
The service is said to employ the Terrestrial Digital Multimedia Broadcasting T-DMB technology, pioneered and developed in South Korea that enables crystal-clear images, as well as stable, non-fluctuating channel viewing of TV programmes on T-DMB phones, laptops, and other digital receivers. The phone device has its full functionalities too – call placing and reception, sms texting, e-mail and several other services that come with the phone device.
Mr. D.H. Kim, Managing Director of Black Star TV, said the company was happy to introduce the new service in Ghana as it seeks to penetrate the African market, explaining that the introduction of the 'valuable service' to offer an alternative to Ghanaian lifestyles was ample testimony of the company's confidence in Ghana's ICT sector and the great opportunities it offers.
The Deputy Director General of the National Communications Authority, NCA Mr. Joshua Peprah, who described the FonTv service as 'innovative and interesting', said the Ghana Government plans a common platform to promote its ICT agenda, including the full exploitation of digital media broadcasting and the NCA will continue its spectrum planning to ensure broadcasters by 2015, have opportunities to serve different markets with clarity, where one company can have a news channel, a sports channel, a movie channel and a music channel, among others.
"Spectrum planning by the NCA has made all this possible and we will continue to do this to make sure that the people of this country enjoy the full benefits of the developments in the ICT field including digital media products such as what we have seen today," he said.
Mr. Yoofi Grant, Chairman of Onetouch (mobile telephone service provider from Ghana Telecom), collaborators of Black Star TV in bringing FonTv to Ghana, was happy a purely Ghanaian collaboration was yielding the unique result, stressing it is another first for Ghana.
He said the mobile phone has become indispensable and it is only natural that service providers provide more innovative products for consumers, adding that with the launch of the FonTv, people can now watch whatever their favourite programmes are virtually out of their pockets and announced Onetouch would provide two months' free subscription for the first 1000 people to purchase the product.