Odartey Lamptey Dances In Court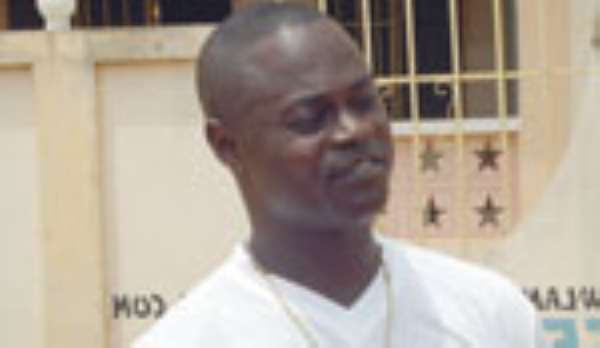 NII ODARTEY Lamptey, the celebrated Ghanaian soccer superstar, could not hold back his happiness after flooring his younger brother at an Accra High Court yesterday.
Just when the Judge announced that he had dismissed a writ which had been filed against the soccer star, he could not hide his excitement and started giggling aloud until people sitting close to him asked him to hush.
After the case was over, Odartey Lamptey was so happy that he danced-walked out of the court room as he tossed his head from the left to right and maintained a chin-to-chin smile on his face.
"It is finished; I have won. Oh, thank God," he told DAILY GUIDE.
The soccer star was in a legal tussle with his younger brother, Odartei Lamptey, who was seeking a perpetual injunction to restrain Odartey Lamptey from selling a house in which their late mother lived until her death.
Odartei had argued that though the house in contention was bought and paid for by his big brother, Odartey Lamptey, it was meant as a gift for their mother and therefore no one has the right to sell it after her death.
Odartei argued further that when the house was bought, he was made to understand that it was a gift for their mother; and he personally renovated portions of it at a great expense.
He said he moved in to stay with their mother until her death, but he still resides there.
His counsel told the court that Odartei had renovated portions of the house at a cost of GH¢ 1,060 and it would be unfair for Odartey to sell the house especially when it was meant as a gift for their late mother.
The counsel further remarked that though Odartey Lamptey had denied that the house was a gift, he had told DAILY GUIDE during an interview the paper had with him in January this year that the house was a gift.
Counsel therefore prayed the court to perpetually restrain Odartey Lamptey from selling the house until Odartei was paid the cost of the renovations.
But the Judge ruled that the application lacked merit and that Odartey Lamptey could not be prevented from selling the house.
He noted that if Odartei wanted the money he used for the renovation, he should allow the house to be sold then he could demand it as long as he can prove that his demand was genuine.
Odartey Lamptey's counsel, Micheal Opare Danso from Acheampong and Co Chambers, virtually had a field day in court.
Odartey Lamptey, at age 16, was arguably the youngest player of Ghana's senior national team, the Black Stars; and he is best remembered for his outstanding performance during Senegal 92', Tunisia 94' and South Africa 96'.
He was nominated in 1991 as the Best Footballer of the Year after banging 11 goals in 39 games, and was nominated the World's Youth Best Player in the same year after scoring five goals in six games during the Under 17 World Championship in Italy.
Odartey has played for Anderlecht in Belgium, PSV Eindhoven in Holland, Club Athletics Union in Argentina, SPVGG Greutherfurth in Germany, Union Di Sportif De Leiria in Portugal and Aston Villa and Coventry City, all in England.
Currently, he describes himself as a 'Free Player' and is the Proprietor of Glowlamp International, a first class basic school he has built as his contribution to society.
By Halifax Ansah-Addo