Kufuor: Govt will train more science, technical and vocational teachers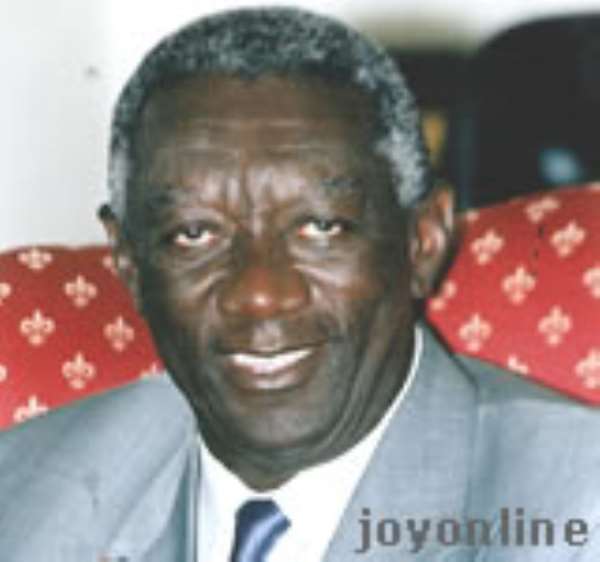 The President, John Agyekum Kufuor on Tuesday expressed concern that despite the attention being given to Technical and Vocational Education and Training (TVET), little attention has been given to
the training of technical and vocational teachers, and the provision of the requisite equipment.

He said to address this anomaly, all teacher training colleges will be resourced and 15 of them given special emphases to train technical, science and vocational teachers.

The President, stated these when he handed over the keys of 12 Zonda buses to 12 heads of technical institutions in the southern sector of the country at a ceremony at the Jubilee (Victoria) Park in Cape Coast, as part of a two-day working visit to the Central Region.

He is also expected to inaugurate a model senior high school at Twifo-Praso, and cut the sod for the construction of a new sports stadium at Akotokyir, a suburb of Cape Coast.

The buses valued at a total of GH¢1,050,000.00 and purchased from China by the GETFund are for the Accra, Ada, Tema and Sacred Heart technical institutes in the Greater Accra Region, Takoradi and Kikam Technical Institutes in the Western Region, Anloga, Kpando, Comboni and Have technical institutes in the Volta Region and Cape Coast and Asuansi technical institutes in the Central Region.

President Kufuor reiterated the seriousness government attached to technical and vocational training under the new educational reform and said more technical schools would also be built in all the regions to absorb students who would not gain admission into senior high schools.

The TVET, he said would work closely with industry, to help provide ready jobs for its graduates after their training to help stem unemployment and also allow the youth to take full advantage of the global market.

On the vehicles, President Kufuor expressed concern about the misuse of official vehicles, resulting in the shortening of their lifespan and urged the heads of the beneficiary schools to ensure that they were well utilized and properly maintained.

The Minister of Education, Science and Sports, Prof. Dominic Fobih said the new reforms was to give more relevance to the needs of the country, adding that courses and programmes of the TVET have been restructured to meet global demands.

He said the government would continue to improve upon infrastructure in technical and vocational institutions to help train more apprentices in the informal sector and called on all stakeholders to work towards the success of the reforms.

Earlier, the Regional Director of Education, Ms. Rosemond Blay, had thanked the President for the gesture and said the vehicles were going to be a major boost in the smooth running of the beneficiary schools.