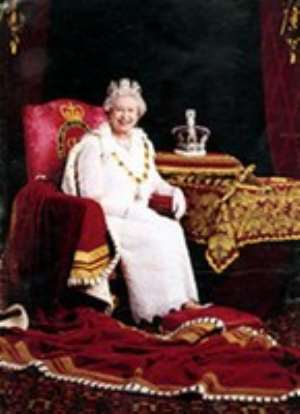 The eighty-second birthday of Queen Elizabeth II was observed on April 29, in Accra.
Addressing the gathering at a cocktail party to mark the occasion, Dr. Nicholas Westcott, the British High Commissioner, who hosted the event, expressed satisfaction about the diplomatic and common ties between Ghana and Britain.
He was of the view that the strong link and mutual respect between the two countries were made possible due to the fact that they share common values such as human rights, rule of law, freedom of speech and thought and language.
Dr Westcott noted that Ghana, which was the first of Britain's African colonies to attain independence, has maintained its lead in many things. These include: rebuilding of multi-party democracy, liberalising of the economy and the first to appoint a woman Chief Justice.
He further envisaged that Ghana would also be the first African country to achieve the Millennium Development Goals and the middle income status.
The High Commissioner pledged U.K's support to Ghana towards organising a successful general election, this December.
He said conducting successful elections is important not only to Ghana, but also to every country which is struggling to emerge democratic in Africa and beyond.
He called on the Electoral Commission and all the relevant stakeholders to take up their responsibilities towards this cause seriously, adding, We must work together to overcome the challenges in the years ahead. He expressed hope that the election will be fair, free, transparent and peaceful.
Responding to a toast proposed by the High Commissioner, the Finance Minister, Mr Kwadwo Baah-Wiredu on behalf of President John Agyekum Kufuor and the people of Ghana, congratulated Queen Elizabeth II and wished her and the royal family good health and general well-being.