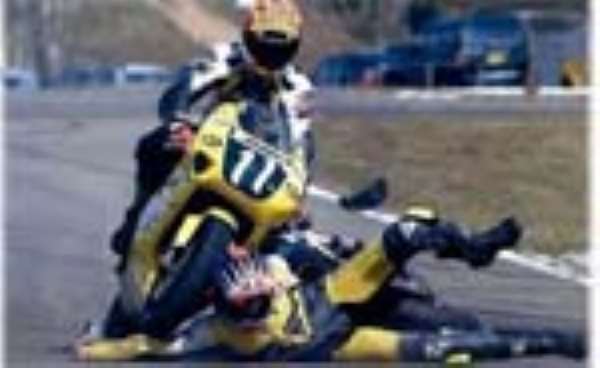 A HEAD-ON collision by two motorbikes has resulted in the death of one of the riders.
The accident occurred in Kpandai in the Northern Region when one of the motorbikes on which were a certain Maliboon Braimah and Masiboa Npuadan collided with another bike being ridden by Mbalbi Mborangna.
The body of the latter, who died at the scene of the accident, was conveyed by the Police who rushed to the scene, while the other two injured persons were taken to the ECG Medical Centre in Kpandai.
The two bikes have been impounded by the Police pending investigations.
According to a research by the Motor Traffic and Transport Unit (MTTU) of the Northern Regional Police Command, 90 percent of motorbike accidents are caused by breaches of road traffic regulations.
While some persons ride without light at night, others do without crash helmets and no license.
Those who shun crash helmets complain that using the protective helmets make them uncomfortable.
The research explained that 95 percent of deaths resulting from motorbike accidents are caused by skull fractures. Such fatal injuries are the results of the direct impact of the head of the rider hitting the ground during the accident.
Some offenders carry more than the sensible number of passengers on motorbikes, with the excuse that since this means of transport is the most common in this part of the country, the riders should not be bothered by the Police.
Others have questioned the sense in demanding that motorbikes are licensed and not bicycles since, according to them, both are on two wheels.
According to the Northern Regional Command's Public Relations Officer, Inspector Albert Johnson, all would be done to ensure that motorcyclists adhere to traffic regulations.
By A.R. Gomda