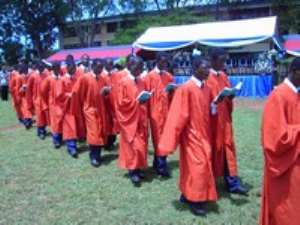 President J.A. Kufuor, has condemned the phenomenon of drug culture prevailing in some schools saying it is unacceptable and must not be allowed to continue.
The President expressed this sentiment in a speech read on his behalf by Mrs Mary Chinery-Hesse, his Chief Adviser, at the 70th anniversary celebration and Speech and Prize-Giving Day of the Presbyterian Senior High School (PRESEC), Legon, on Saturday.
The theme for the occasion was : '70 years of excellent education-building quality human resource for national development'.
President Kufuor said in these great times, the present generation of students should not allow anything to distract them from their books as they are blessed with many opportunities due to the peace the country is currently enjoying.
'The only thing left for you now is to strive hard to achieve your dreams and aspirations in order to rub shoulders with other competitors scattered across the continent,' he told the students.
President Kufuor said for students to realise that dream, calls for self-discipline, tolerance and strict adherence to school rules and regulations as the school tries to inculcate in them (students) certain values that are not at variance with anyone.
The President said government is fully committed to providing sound technical and vocational education training (TVET) and therefore technical schools are to be built in all the regions.
The TVET sector, he said, will liaise closely with industry for both the design and delivery of the curriculum, to produce skilled personnel to drive the economy to achieve the desired results.
Kwame Africanus Anane, headmaster of the school, in his report, enumerated the challenges of the school as including the lack of accommodation for both staff and students, a library and a well-equipped ICT centre.
He said most of the tutors commute from distant places, making it difficult for them to spend quality time with students. He announced that in view of the four-year programme of the education reform, the school's yearly intake of over 600 will be reduced to about 400 due to lack of space.
Despite these challenges, he said the school achieved a 100 per cent academic record in the 2007 West African Senior Secondary School Examination.
Out of 620 candidates presented, 464 passed in all eight subjects, 130 passed in seven subjects, 16 passed in six subjects, five in three subjects, three in four subjects and only one in two subjects, he said.
Prizes were awarded to retired and deserving tutors and students.
Mr Charles Dompre Brako, a mathematics tutor, was adjudged the overall best teacher for 2007. He received an undisclosed amount of money.