Canoe Fishermen Call For Ban On Pair Trawling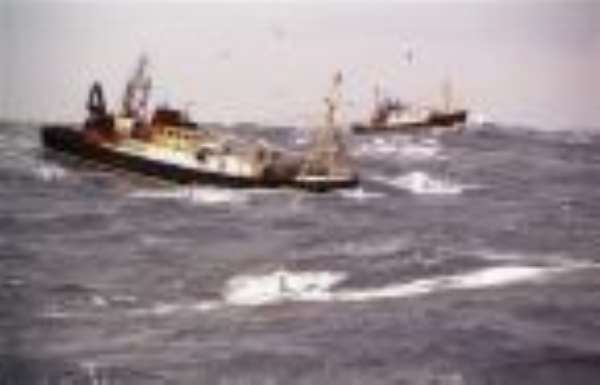 Canoe fishermen in the Central Region have called for an immediate ban on single and pair trawling with immediate effect.
They said that during fishing expeditions, trawlers move too close to the shore-line thereby destroying the sea bed and denying fishes the needed nutrients for their growth.
This results in fish stock decline.
The fishermen made the call here yesterday at a meeting between the Regional Coordinating Council (RCC), the regional pre-mix committees and chief fishermen.
The meeting was to enable the chief fishermen to highlight the challenges they encounter at sea and evolve means of promoting the fishing industry.
The fishermen decided to abandon a planned demonstration dubbed, "Joint action against pair trawling".
The Secretary of the Elmina pre-mix fuel committee, Joseph Asmah, said the problem with the trawlers had spanned three decades and stressed the need to address it now.
He urged all fishermen to refrain from blaming the problem on politics and called for government's support to address it.
All the chief fishermen pledged their commitment to ensuring that their members comply with the ban on the use of light for fishing which they admitted affects the fish stock.
They therefore called on the security agencies to arrest any body found using light for fishing expedition.
The special assistant to the Regional Minister, Ken Nunoo, said the Ministry of Fisheries will not renew the license of trawlers found to have violated the terms of their operation.
He urged the fishermen to report people found using pair trawling in fishing as well as trawlers which come close to areas reserved for canoe fishermen.