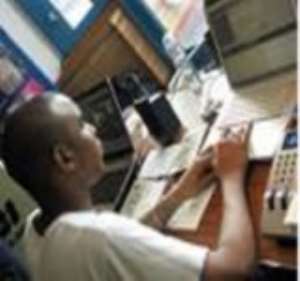 The Northern Regional Director of Education, Mr John Bobenu, has expressed concern about the rampant use of computers and internet facilities to commit cyber crimes by the youth.

"It is common to see our youth engaged in unlawful acts such as child pornography, paedophilic activities, prostitution, credit card fraud and chat scam with computers and the internet in all parts of the country; and these must be checked immediately," Mr Hobenu stressed.

The director stated this at the 2008 Northern Region Heads of Schools Summit in Tamale at the weekend.
It had the theme, "Transforming schools through electronic learning".
The summit was, among other objectives, aimed at exploring new ways of transforming schools in the modern technological world.
Participants, including Information and Communication Technology (ICT) experts, discussed such issues as electronic learning centres, schools management solutions, building a world class school and financing school projects through leasing.
The Ministry of Education, the Ghana Education Service (GES) and etoys and more, an organisation that is into providing technological solutions for the educational needs of children and schools, jointly organised it.
According to Mr Hobenu, "the spate of these crimes has the potential of breaking into the electronic learning programmes in schools, business organisations, and banking institutions, thereby derailing all the benefits of ICT".
He suggested the institutionalisation of regional child development centres that should be equipped with carefully selected equipment, computers, and other science-based teaching and learning materials in all regions to give meaning to the mainstreaming of kindergartens in basic schools.
He, however, pointed out that the equipment, materials and the kind of training at these centres should be crafted in line with the country's vision and policy direction, which should be scientific and technologically oriented.
"I, therefore, entreat all stakeholders, civil society, non-governmental organisations, corporate bodies and the government to influence positively our policy direction as a nation towards the production of a workforce in tandem with the contemporary world," the director noted.
The Executive Vice-President of etoys and more, Mrs Theresa Sackey, observed that "this year's schools summit is taking place at a very important time when we expect our schools to use this platform in preparation for the electronic learning conference this month".
According to Mrs Sackey, her outfit decided to help upgrade "our electronic learning centres with very powerful educational software and broadband internet facilities for effective school management".
She further observed that the summit provided a unique forum to help schools gain access to the important global trends in education in order to help schools effect the necessary changes for better results in the education sector.
Touching on the declining performance of the Tamale metropolis in the national examinations league table, Mrs Sackey expressed optimism that the situation could be transformed for the better, if more pragmatic measures and policies were put in place.