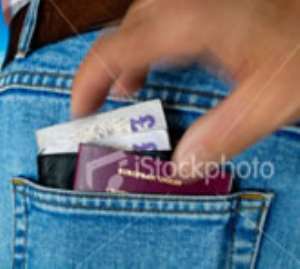 The Nsawam circuit court on Friday sentenced Mohammed Alhassan, 30, unemployed to two years' imprisonment with hard labour for stealing 140
Ghana cedis from a passenger on board an Accra-Kumasi bound vehicle.
Alhassan pleaded guilty to stealing.
Prosecuting, Police Inspector Anthony Oppong told the court, presided over by Mrs Elizabeth Ankumah that on May 6, 2008 at about 1020 hours, Alhassan boarded a Benz bus vehicle from Accra to Kumasi together with Mr. Andoh Justice, the complainant.
Inspector Oppong said on reaching Kyekyewere, the accused who was sitting by Mr. Andoh Justice used a razor blade to cut the bag of the complainant and removed a purse containing the amount of 140 Ghana cedis.
Source: GNA