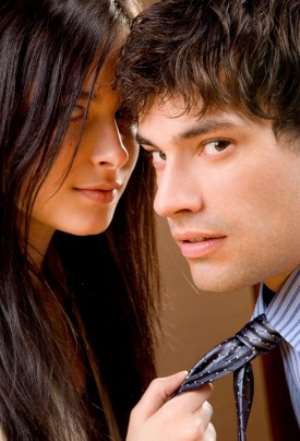 Love comes when you are not looking for it. People, therefore, find love any time, anyhow and anywhere, including churches, supermarkets, gyms and conferences.
Consider a man who drove into a pothole and accidentally - splashed water on a lady. He apologised and offered to take her home because she was badly soaked -in dirty water. They found love on the way and later got married.
Today, the workplace is among the leading spots where Ghanaians - find love. In fact, global studies show that almost half of all workers get emotionally involved with someone at the workplace.
Why love at workplace?
Yesterday, the man was the bread winner while the woman was the homemaker. Today, due to equal educational opportunities and interventions, Ghanaian women match men boot for boot.

It is, therefore, common to find that in most organisations there are fairly equal men and women in informal verbal and non-verbal communication. Sexual hormones just can't shut down.
Imagine a bank lady who leaves home at six in the morning and gets home at eight in the evening. The workplace is where she spends most of her time. It gives her the best option to find potential lovers.
Advantages of workplace affair
You see colleagues in all moods tensed, relaxed, anxious as you do what you both enjoy. The workplace is non-threatening and comfortable. You deal with someone who is not a stranger.
You have adequate time to share and know your partner's interests, habits and ideas better. You have breaks together and talk. Chances are great to step up your association to a romantic affair.
Disadvantages
Love at the workplace affects either work, love or both. This may spill over to your colleagues and damage the dynamics at the workplace. A boss may make concessions for his girlfriend at the cost of the organisation.
Studies show most romance at workplace is based on erotic love which easily tapers off to leave behind pain, bitterness and jealousy. If things go wrong and you keep seeing "your former lover you may lose the motivation to work.
Romance at the workplace would almost always be found out. Ridicule, gossips, can ruin your chances of progression. Colleagues may feel cheated and deliberately cause financial loss to the organisation. One bad move by one partner will be linked to the other.
It is also known that no matter how hard a girlfriend works, people will attribute her promotion to " bottom• power". Today, many workplaces have become fertile place for infidelity. Some directors only offer appointments and promotion to those who compromise.
Have you found love at workplace?
You can't prevent someone from having a crush on you at the workplace. Sometimes, you can't help falling for an office colleague. First, admit what is happening and then make a decision.
If you decide not to get involved, take it off your mind. Stop working or taking breaks together. You must also avoid discussing personal difficulties in your relationship.
A man may get close just to help you because men are born with instincts to help women.
You may decide to go in for workplace affair because love works in mysterious ways.
• Find out the tradition at the workplace. Some places strictly forbid workplace affair.
• Be honest with yourself and make sure you are not in for personal benefit to ease tension or cover up difficulties at home.
• Ensure that you are professional about work and romance. Try to keep the affair secret. Don't use time for work for romance, e-mails and notes. Also maintain good friendship with your colleagues. It is advisable not to change your habit at the workplace. A significant change in routine like frequent visits to your boss and lover may annoy your colleagues.
Avoid getting too close or attending social gatherings together. It is important you don't change lovers at workplace. Two affairs at your workplace may be one too many to maintain your integrity and reputation.
Studies show only a very small fraction of workplace affair end in fulfilling relationships. Studies also indicate most workplace affairs come at great financial and professional cost to lovers. These show workplace affair may not be good for you because you may lose more than you gain.
Love may be hot to handle. You meet this beautiful lady at the workplace. She has all the qualities you want in a future wife. You genuinely love her and the chemistry is right. What do you do? Well, happiness comes from work and love. If you find both at workplace gratefully accept it, but drive with care.
John Boakye, The Mirror
e-mail: [email protected]