Water Thieves To Be Published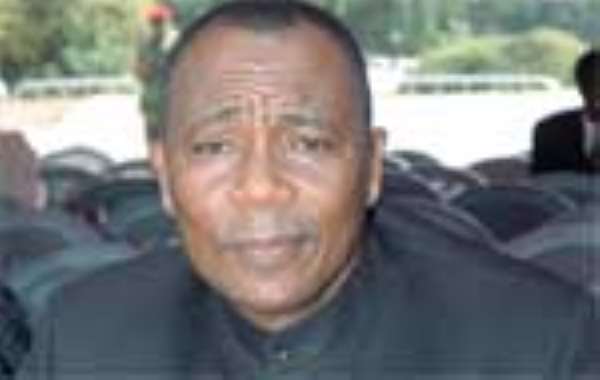 THE MINISTER of Water Resources, Works and Housing, Alhaji Boniface Abubakar Saddique, has hinted that very soon the names and photographs of all those involved in illegal water connection or in default payment would be published in the dailies.
He opined that such publications would be a sure way of reducing illegal connections and uncovering staff of Ghana Water Company Limited (GWCL) who are aiding and abetting those water thieves.
He indicated that 11 million gallons of water is lost daily through the activities of water thieves and that something would have to be done about the situation.
Alhaji Boniface lamented that while Accra needs 150 million gallons of water daily, GWCL is able to produce just a little over 50 percent of that quantity.
"Even though the 85 million gallons we generate daily is woefully inadequate, only 74 million gallons can be accounted for. The remaining 11 million gallons cannot be traced," he said.
The Minister cautioned that the nation's capital could suffer its severest water shortage ever if nothing was done about the haphazard citing of buildings on waterways.
Sounding very concerned, the Minister said the situation near the Weija Water Works was so precarious that Accra could run out of water in a matter of days.
He made the revelation when he paid a working visit to the Weija plant yesterday to acquaint himself with the situation on the ground.
The Minister, who was received by Nii Boafo Danyina-Nse, Dzaasetse and acting traditional head of Weija, noted that a number of bridges linking the town to the plant had broken down.
According to him, because of the activities of encroachers in the area there was virtually no access to the treatment plant, stressing that trucks were now unable to convey chemicals to the plant.
Contributing, the Managing Director of GWCL, Mr. Cobbie Kessie Jr., lamented that most of the company's machines were as old as 30 years.
"Our problem is that we are relying on equipments that were installed as far back as 1978. Honestly, between 1993 and 2003, there was no practical investment into the water system, apart from the routine rehabilitations.
We are not investing in water, but rather trying to solve jig-saw puzzles," he said.
Describing what is happening now as a revolution of a kind, Mr. Kessie revealed that a $230m private treatment plant which would generate 40 million gallons of water daily would soon take off.
Even though the investment is a private venture it would later be taken over by government after a Build-Operate-Transfer (BOT) agreement had been reached.
He stated further that additional 15million gallons of water would be realized through the drilling of wells at various parts of the city.
On housing, Hon. Boniface hinted that a $250m deal would soon be concluded for the completion of houses being built at Kpone and Borteyman.
He said the de-silting of the Odaw drain would soon begin ahead of the coming rains.
Also on the Minister's trip to Weija was Mr. Kweku Botwe, Deputy Managing Director of GWCL.
By Bennett Akuaku