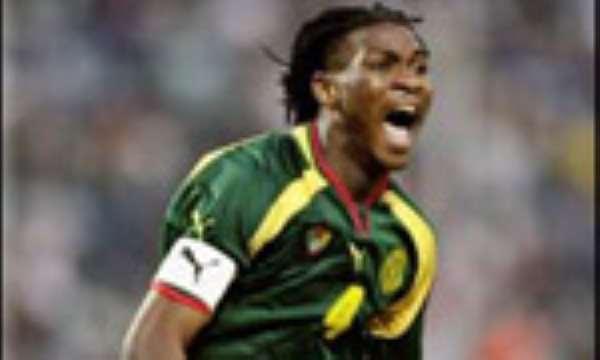 THE INDOMITABLE Lions of Cameroon, runners-up in the just ended 26th MTN Africa Cup of Nations hosted by Ghana, will pitch camp in Tunis to prepare for the preliminary round of the World Cup qualifiers.
Information reaching DAILY GUIDE SPORTS indicates that Coach Otto Pfister has selected 25 players to represent the nation, including strikers Meyong Ze and Ngom Nkome who were serving suspensions and did not play in the Nations Cup.
According to the German trainer, Tunisia is a good choice for training because of the soccer facilities there and that it will help the players to acclimatize before their first game against Cape Verde on May 31, 2008 in Yaounde, Cameroon.
Led by skipper Rigobert Song, the Indomitable Lions will travel to Mauritius on June 8 and welcome Tanzania on June 14 before hosting the same side on June 21 this year.
Other top-notch players in the squad are Alexander Song, Deputy skipper Geremi Njitap, top strikers Samuel Eto'o Fils and Achille Emana who has scored seven goals so far for his team, As Nancy in France.
By Pierre Toto