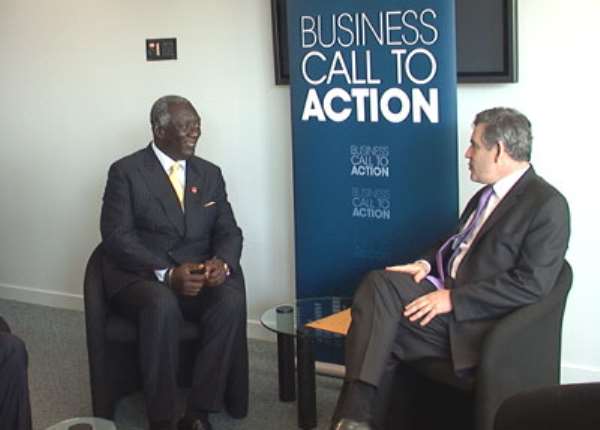 President Kufuor holding bilateral talks with UK Prime Minister in London
President John Agyekum Kufuor of Ghana yesterday called for fair and predictable market system to aid Africa's green revolution. He said there should be equity in the value chain to assist 'our farmers' to look ahead with some predictability, if the Continent was to achieve increased food production and food security.
President Kufuor was sharing his thoughts on the way forward for Africa in the wake of the global food crisis that had sparked violent protests in some countries at a media interview in London. He arrived in London to participate in an international forum to discuss concrete ideas for drawing on the power of business to help speed up progress on the Millennium Development Goals (MDGs).
The forum hosted jointly by United Kingdom Government and United Nations Development Programme (UNDP), was attended by Chief Executive Officers of some of the world's leading companies including Coca Cola, Microsoft, Standard Chartered Bank, Citi Bank, Pepsi, Barclays Bank and Mitsui.
Others were, senior Government Ministers and high level representatives of the United Nations (UN).
President Kufuor said with its many water resources to support irrigation, combined with improved seedlings and technology application, Africa had good prospects for all-year-round food production. What was needed he said, was to turn agriculture into business by supporting farmers with credit and ensuring connectivity between small and large-scale farming.
President Kufuor explained that it was on account of this that the Government of Ghana was assisting Ghanaian farmers to acquire tractors at subsidised rates. Already about 2,000 tractors had been imported for the farmers.
President Kufuor had earlier held separate discussions with UK Prime Minister Gordon Brown and Secretary of State for International Development, Mr Douglas Alexander on what assistance UK could provide to help Ghana to achieve the MDGs. Their discussions centred on funding for the school feeding programme and health care delivery.
Please click here to view photos