Veep Condemns Trigger Pullers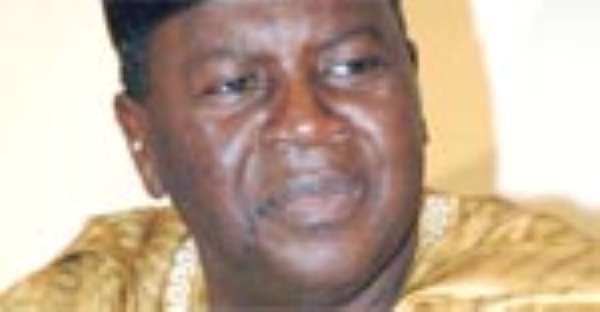 VICE PRESIDENT Alhaji Aliu Mahama has condemned in no uncertain terms people who pull the trigger of their guns at the least provocation.
He described as unacceptable, the escalating number of people wounded by guns in recent times, and noted that such negative acts only created a wrong impression about the country to the outside world.
Vice President Mahama made these remarks when the Paramount Chief of Prang in the Brong Ahafo Region, Nana Kwadwo Nyarko, paid a courtesy call on him at the Castle, Osu on Tuesday.
His call came in the wake of the Goaso tragedy where one Boakye Mensah allegedly shot his wife in the private part, the bloodbath in the chieftaincy dispute at Anlo in the Volta Region last Saturday, and the fresh outbreak of violence in Bawku in the Upper East Region.
These unsavory situations, the Vice President noted, were creating instability in the country, besides bringing disrespect to the chieftaincy institution.
Vice President Mahama, who was worried about the situation, asked, "Why should we always take the gun to kill our fellow human being at the least provocation?"
He said it was high time Ghanaians learnt to seek redress at the law courts or go to the National House of Chiefs to settle conflicts amicably, instead of resorting to violence.
He therefore challenged the National House of Chiefs to play a key role in chieftaincy disputes to water down such conflicts so as to bring dignity to the noble institution.
The Omanhene, who was at the Castle to follow up on a promise made by President Kufuor and the Vice President some years ago, commended the government for extending tele-communication to the district.
Nana Nyarko reiterated his call on government to upgrade the Prang Senior High School to a model one and provide a bus for the school.
He further appealed to government to give the area potable water, doctors for the health centres, and as well rehabilitate the Prang-Kintanpo road.
Responding, the Vice President said the issue of upgrading of schools was in phases and that the first batch of 31 schools had been upgraded while the second phase which involved 25 schools was on-going.
He indicated that the third phase would commence after the second phase had been completed, and therefore assured the Chief of government's commitment to include Prang in the third phase.
On the provision of a bus, he said government had imported over 100 buses for distribution to second cycle institutions in the country, and added, "Your school, Prang, would be a beneficiary".
Concerning the supply of potable water and doctors, he said government had this year made provision of water, road and education its topmost priority.
Consequently, he appealed to all and sundry to exercise restraint in their demands as government was working feverishly to address their concerns.
By Sheilla Sackey