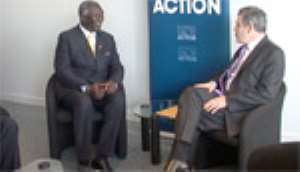 President John Agyekum Kufuor has urged participants of the "Business Call To Action" Meeting in the United Kingdom to look seriously to Africa not with aid but for well meaning partnerships that will catapult Africa out of its present predicament.
He said: "It is easy to make millions of dollars in Ghana, and Africa for that matter, than anywhere else in the world."
The "Business Call To Action" Meeting is an initiative by the UK Government in collaboration with United Nations Development Programme (UNDP) to galvanize support from world major industries and businesses to respond to the challenges developing countries face in meeting Millennium Development Goals (MDGs) by 2015.
The meeting was also attended by President Paul Kagame of Rwanda. Ghana and Rwanda are the only two countries in Africa that are making progress in meeting some of the MDG targets.
The meeting, which was opened by UK Prime Minister Gordon Brown, was also attended by Neville Isdell, CEO of Coca Cola; Michael Klien, Chairman of the Institute Clients Group of CITI; Paul Walsh, CEO of DIAGEO; Graham Mackay, CEO of SABMiller; Jean-Philippe Courtois, President of Microsoft International; Hiromasa Yonekura, President of Sumitomo Chemicals; Arun Sarin, CEO of Vodafone; among others.
Later, President Kufuor held bilateral meeting with Prime Minister Gordon Brown.
President Kufuor was accompanied to the meeting by H. E. Annan-Kato, Ghana High Commissioner to the UK, Ambassador D. K. Osei and Hon Andrews Awuni, Press Secretary.