Airtel Bids For 51% Stake In MTN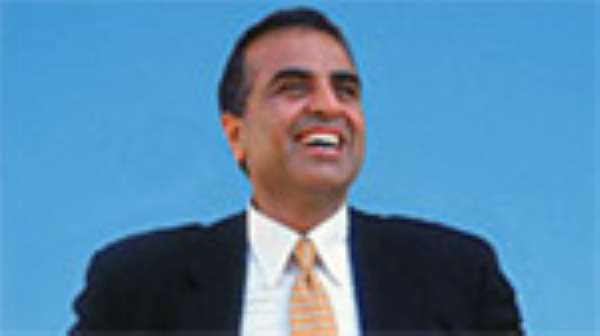 Bharti Airtel, India's biggest mobile operator has made a $19 billion bid for the control of Johannesburg-listed MTN.
MTN is the leading mobile telecommunications company in Africa and Middle East.
Insiders told the Financial Times (FT) that the Indian operator tabled an indicative bid for 51 percent of the equity of MTN at about R165 a share, which would value the South African company's entire equity at around $37 billion.
Airtel has already secured $12 billion of financing from Goldman Sachs and Standard Chartered Bank.
MTN's shares have risen sharply since April 25 this year when the FT revealed that the Indian operator was considering an offer for the flagship South African company, a report that initially drew sharp denials from senior Bharti executives.
The two investment banks have each pledged to underwrite $6 billion of the amount that Bharti will need to purchase the controlling stake, people close to the situation have said.
Bharti is expected to fund the balance with an issue of equity, either directly to MTN shareholders or to institutions.
Speaking to the Financial Times on Monday, Sunil Bharti Mittal, CEO of Bharti Airtel said, "We're delighted that they've chosen to talk to us. It confirms Airtel's standing in global telecoms, but whether it will lead to anything, I don't know."
Mittal denied that Bharti Airtel would have any difficulty in choppy capital markets raising the funds required for a bid on this scale, saying: "I have been overwhelmed by the kind of response we have had from the banks."
Merrill Lynch and Deutsche Bank are advising MTN, while Bharti is being advised by Standard Chartered. Singtel, which owns 30.5 percent of Bharti, is being advised by Goldman Sachs.
Meanwhile, one out of every three Africans now has a mobile telephone, the International Telecommunications Union has said.
This is a sharp contrast to the situation at the beginning of the 21st century when the mobile penetration in the continent stood at one in every 50 people living in Africa.
These are some of the contents of the African Telecommunication / ICT Indicators 2008 report. The full content of the report is billed for release at the beginning of ITU Telecom Africa, which opens in Cairo, Egypt on Sunday.
According to the report, growth in Africa's mobile sector has defied all predictions. The region recorded the highest annual growth rate in mobile subscribers and added no less than 65 million new subscribers in 2007.