EPAs must serve as a wake up call for Ghanaians - CEPA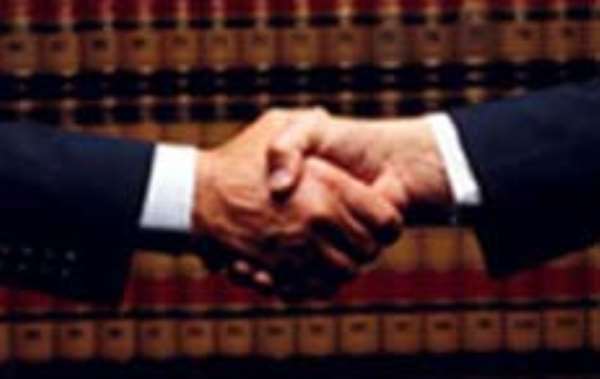 Dr Joe Abbey, Executive Director of the Centre for Policy Analysis (CEPA) on Wednesday challenged Ghanaians to take advantage of the Economic Partnership Agreements (EPAs) to raise their production capacities.
He explained that the EPAs must serve as a wake-up call to the country instead of thinking of creating barriers to stop the entry of European goods.
"The status quo of sitting down and only repeating our story of how we have been colonized must be stopped. Let us look at the hard facts and deal with it," he said.
Dr Abbey was speaking at a discussion organized by the European Union as part of the EU week celebration, on the Topic; "Trade for Development in European Union with Relations to West Africa."
The discussion brought together people from the civil society organizations and non-governmental organization who shared digressed views from what Dr Abbey was proposing as well as ambassadors of various EU countries and some staff of the Diplomatic corps.
Dr Abbey questioned that, "as a country we had not made any preparations to take up domestic competitiveness and said Ghana should be using this time to test her preparedness on domestic competitiveness."
He cited an example where tomato farmers in Ghana resisted tomatoes from Burkina Faso from entering the country even though we talk of south-south trade and explained that it was an evidence that all was not well with our competitiveness as a country
Justifying the reason for Ghana's signing the EPA stepping stone, Dr Abbey asked whether it was in Ghana's interest to sacrifice her non-traditional exports?
He said it was reasonable that, the country saved the non-traditional export sector, which was almost in danger if the EPA was not signed by the December 31, 2007 deadline.
"We should explore ways of lowering the cost of production in this country to enable us compete well. We are always good at finding faults but not good at solving problems."
Dr Abbey said the EPA stepping stone gave the country five years after which trade tariffs would be lowered from five percent for European imports and explained that if the country improved its manufacturing capacities she should be able to deal with the situation without feeling it.
"We have to find out what constraints are facing our manufacturing sector because in any case the manufacturing sector fell by 2.5 percent last year," he said and asked; do we also blame that on the European market?
The Economic Analyst said that Ghana found herself in a peculiar situation as an individual country with unique needs and noted that the country should be able to deal with her unique situation instead of comparing herself with other West African countries.
"Out of 15 countries in West Africa who were dealing with the EPA, 12 of them were considered least developed and Ghana is one of the three countries which is not least developed."
Mr Filiberto Ceriani Sebregondi, Head of European Union delegation in Ghana said despite the trade preference access for most West African countries in Europe, African trade with Europe had decreased.
"Africa occupies only two percent of trade in Europe," he said and noted that supply capacity was a constraint in Africa.
Mr. Sebregondi said what the EU sought to achieve was to close the gap between industrialized and developed countries on one side and developing countries on the other.
Commenting on the public procurement aspect in the EPA, he said the EU
was not interested in competing in public procurement and added that they only sought to see an efficient public procurement system in place.
Mr Sebregondi pointed out that the EU had tabled a proposal to abolish all export subsidies by 2013 and admitted that the Union was aware that the level of reciprocity was not the same.
Mr. Steven Antwi, President of the Ghanaian - Germany Economic Association in Accra who spoke on Foreign Direct Investments (FDIs) commended Ghana for being the number one in terms of protecting investors in the sub-region.
He called for proper structures in terms of registering properties and businesses, among others, to facilitate investments in the country
Mr Sam Poku, Chief Executive of the West Africa Business Association, Accra, mentioned human resource development as a critical factor in attracting FDIs and also called for public-private partnerships, which, he said, would enhance intra-African trade.