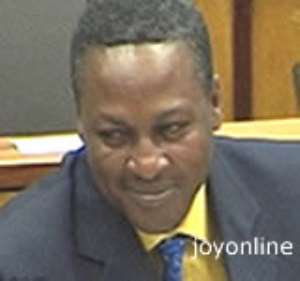 The vice presidential candidate of the NDC, Mr. John Mahama says the ruling NPP's statement that this year's elections will be decided on the records of the two parties in government is a recipe for mediocrity.
He was speaking in Accra on Wednesday after the flag bearer of the National Democratic Congress (NDC) Prof. John Evans Atta Mills formally introduced him as his running mate for the December polls.
The event was also used by the party to officially launch its campaign for this year's elections.
Mr. Mahama said the records of the two political parties were incomparable because of the huge foreign capital injected into the economy by donors in the last seven years.

"From 1960 to the year 2000 total loan agreements signed and that includes Akosombo Dam, it includes Kpong Dam, amounted to $10.4 billion. From 2001 to 2007 total loan agreements signed amounted to $ 4.7 billion. If after all this injection into this economy today Ghanaians feel even more financially emasculated than they did in the year 2000, then what point do you have asking for a comparison of records", he asked.

Mr. Mahama who is also the Member of Parliament for Bole/Bamboi said the parties should rather focus on the development needs of the country instead of comparing records.
"The challenges that face Ghana today [are] not about the comparison of records. Is about how many hospitals does Ghana need and how many was I able to provide", he stated.
"In any case if they want a comparison of records we are willing to give it to them because our record was impressive", Mr. Mahama said.
He said he was humbled by the decision of the NDC presidential candidate to appoint him for the vice presidential slot and will do everything possible to help the party win the December elections.
Mr John Mahama also appealed to the feuding factions in Bawku lay down their arms and embrace peace.
According to him, the northern part of the country was a deprived area whose people could not afford to engage in armed conflicts.
He gave the assurance that when voted into power, the NDC will look into the root causes of the conflict and bring lasting peace to the people.
Story by Malik Abass Daabu