Boniface Breaks Silence •On Nana's Veep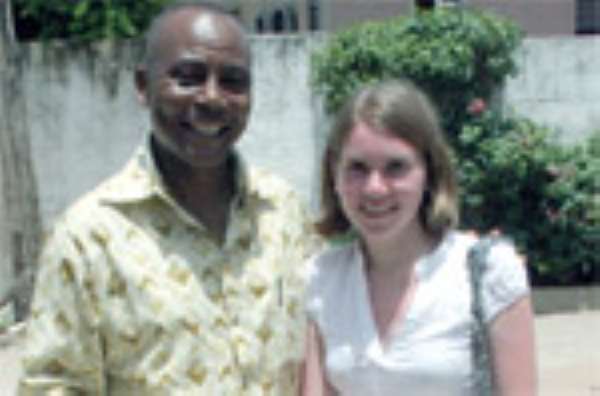 ALHAJI ABUBAKAR Saddique Boniface, Minister for Water Resources, Works and Housing, has admitted that just as it is the dream of every Corporal in the army to become a General, it is not out of place for politicians also to aspire to attain the ultimate, which is the presidency.
Speaking for the first time on rumours that he was being eyed to partner the New Patriotic Party (NPP) presidential candidate, Nana Addo Dankwa Akufo-Addo as a running-mate, the Salaga MP said he would rather leave the issue to the good judgment of Ghanaians.
The Minister broke his long silence when he and a team of officials from the Ghana Water Company Limited (GWCL) paid a working visit to the DAILY GUIDE offices in Accra on Monday.
He however noted that his major preoccupation now was to help the ruling NPP retain power in the December general elections.
"I am ready to serve in any capacity and if being a presidential running-mate would be a catalyst to winning the election, then so be it," he said in answer to a question posed by the Managing Editor, Mrs. Gina Blay.
According to him, he is ready to help the party chalk successes in both the presidential and parliamentary elections and would leave no stone unturned to make that a reality.
Asked if he was going to stand as a parliamentary candidate in the Salaga Constituency, he said he had already filed his nominations, and expressed confidence of winning the primary hands down.
He said even though several calls had been made at various fora for him to be picked as Nana Akufo-Addo's running mate, he still believed that decision is the prerogative of the presidential candidate.
The name of 47-year-old Gonja-born Boniface had been parading in the media for several months now as being the most suitable member of the party to partner the candidate.
The assertion, according to many, is based on his youthfulness, ability to deliver, and good sense of judgment.
But all along, the Minister had maintained a low profile in the matter until he was virtually 'ambushed' by the Managing Editor.
His name and image on the political ladder skyrocketed, according to observers, when he was appointed the Northern Regional Minister, a feat which earned him the accolade 'Zongo Boy' among his admirers.
Boniface, who came to serious political limelight following his courageous moves to end the Yendi crisis, wields unflinching support in the northern part of the country.
He is married with three children, and is seen as a good communicator, as he fluently speaks four major Ghanaian languages-Twi, Hausa, Dagbani and Gonja.
Born on 14th November, 1960, he had his secondary education at Navrongo Secondary and Tamale Secondary Schools.
He then proceeded to study at the Kwame Nkrumah University of Science and Technology (KNUST), Kumasi.
In 1985, he was awarded a degree in B.A. Social Science and Technology, and later pursued various post graduate studies in the UK.
Other names that popped up as possible running mates include Hajia Alima Mahama, Minister for Women and Children's Affairs; Rashid Bawa, Ghana's Ambassador to Saudi Arabia; Dr. Mohammed Ibn Chambas, ECOWAS Commission President; Alhaji Nurudeen Jawula, Chief Director, Ministry of Health; Dr. Mahamadu Bawumia, Deputy Governor of the Bank Of Ghana; Alhaji Malik Alhassan Yakubu, Second Deputy Speaker of Parliament; Mrs. Oboshie Sai-Cofie, Minister for Information and National Orientation; Gifty Afenyi Dadzie, former GJA President and Member of Council of State and Difie Agyarko-Kusi, an international jurist.
Interestingly, a large number of those being penciled are old boys of Tamale Senior Secondary School (Tamasco).
By Bennett Akuaku