Kufuor Campaigns For Africa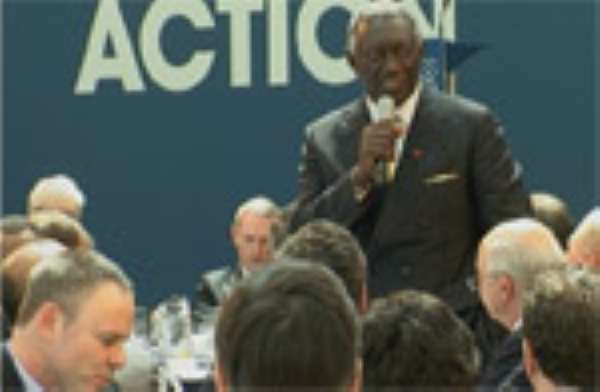 President John Agyekum Kufuor and his Rwandan counterpart, Paul Kagame, were the only two African leaders to participate in the "Business Call To Action" meeting in the United Kingdom.
The meeting, which seeks to galvanise support from major international industries and businesses, was opened by the British Prime Minister Gordon Brown.
President Kufuor tasked the gathering to look seriously to Africa not for aid but meaningful partnerships that will catapult the continent out of its present predicament.
He said: "It is easy to make a million dollars in Ghana, and Africa for that matter, than anywhere else in the world."
President Kufuor's assertion was encored by many other speakers after him.
The high-profile meeting had in attendance important business dignitaries like the Neville Isdell, Chief Executive Officer of Coca Cola; Michael Klien, Chairman of the Institute Clients Group of CITI; Paul Walsh, CEO of DIAGEO; Graham Mackay, CEO of SAB Miller; Jean-Phiippe Courtois, President of Microsoft International; Hiromasa Yonekura, President of Sumitomo Chemicals; Arun Sarin, CEO of Vodafone; Mo Ibrahim of Mo Ibrahim Foundation; Prof Jeffrey Sachs and many major international captains of industries and corporations from all over the world.
President Kufuor later held bilateral talks with Prime Minister Gordon Brown.
He was accompanied to the meeting by Mr. Annan-Cato, Ghana High Commissioner to the UK; Ambassador D.K. Osei and Mr. Andrew Awuni Press Secretary to the President.