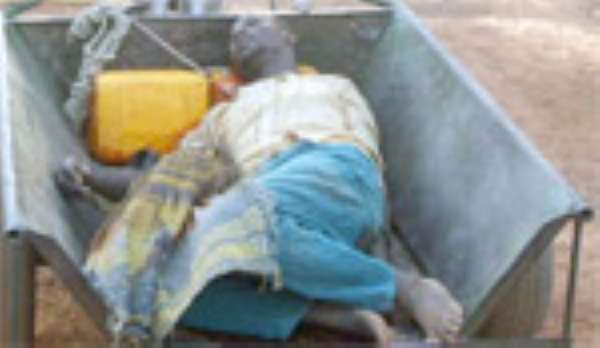 We have taken note of, and painfully too, the unnecessary bloodletting in both Anlo and Bawku, two locations which have tasked our security agencies and state kitty for a while now.
We express our deepest remorse about the developments, especially since both have involved the inflicting of pain, not only to the victims, some of whom are innocent citizens caught up in the maze of confusion which they were not responsible for, but to their families.
The Anlo scene witnessed a lull for sometime now, a welcome development which unfortunately gave way to another bout of bloody confusion a few days ago.
As if that was not enough for us as a country, we were visited by a re-enactment of mayhem and murder in Bawku.
What is happening in Bawku in particular is outright murder of citizens in what has become a revenge operation.
Families of persons maimed or killed in the ongoing chaos, in reprisal action, also exact revenge on people suspected of being behind the action.
This done, those at the receiving end also rise up and revenge and it continues in an unnecessary cycle of murder.
We are amazed that the two clashes have taken place almost simultaneously as though being manipulated by some hidden hands somewhere.
We would not rule out that possibility especially since there are some compatriots of ours who detest peace but savour bloodletting because it fits in their general agenda.
We cannot be specific but ask that the security agencies concentrate on the intelligence aspect of their work, now that we are approaching elections.
We condemn whoever is responsible for the fomenting of such devious manouvres. The Bawku incident, coming after the President waded into it, is saddening.
Indeed after the meeting with the leadership of the warring ethnic groupings in the township by the President, there was a welcome lull in the fighting and we thought at long last an end was in sight for this terrible blot in the history of this Upper East Regional township which used to be a bustling centre of trade because of its position as sort of entre-pot between the two neighbouring countries of Togo and Burkina Faso.
Today all these commercial activities can not take place, for now. Certainly not with the necessary highly restrictive curfew freshly imposed on the township.
We are amazed that people can allow such ethnic sentiments to overshadow their religious stipulations which abhor such senseless acts of murderous reprisals.
Information that worshippers were attacked shortly after their evening prayers sounds absurd.
It means those who did the attacking did not care a dime about the fact that the people they attacked had just finished their prayers.
The bloodlettings are both taking place at a time when politicians are about to hit the campaign trail.
In an election year, when some power-seekers can be as diabolic as Lucifer, we think that government and indeed the security agents must be as swift and strict as possible when dealing with the situation in such flashpoints.
Nobody whose name is seen as playing a part in the spoiling of the peace in these locations should be spared.
We cannot afford to allow the dissipation of public funds in the maintenance of law and order in places where hospitals, potable water and other more important services are required.