Two die in Somali currency riot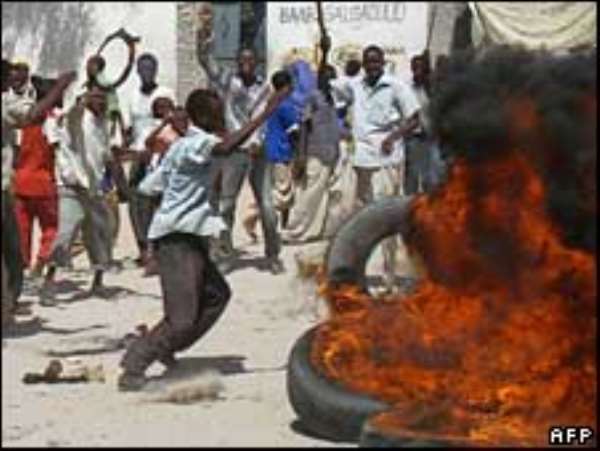 Somali troops killed at least two people in the capital, Mogadishu, when they opened fire to halt riots over rising costs and counterfeit money.
Thousands of people rioted, burning tyres and throwing stones after traders refused to accept local notes and demanded US dollars instead.
The recent printing of local shilling notes on illegal presses has led to spiralling inflation, reporters say.
This and the increasing insecurity have seen food prices double.
Somalia has been without a central government for more than 17 years and for the past 17 months, the Ethiopian-back interim government has been struggling to exert its control over the country.
The United Nations reports that soaring food prices have already forced more than a third of all Somalis to rely on outside assistance to feed their families.
'Down with the dollar-receivers'
Two people were killed and four wounded when government troops intervened, firing into the crowd, the BBC's reporter.
Hundreds of shops and restaurants on the main roads closed as the demonstrators threw stones at the buildings, our reporter says.
The demonstrators shouted slogans about the traders such as "down with those refusing the old money and down with the dollar-receivers".
"We have been killed with bullets and now with hunger," one woman, who fetches and carries goods for people with a basket on her back, told the BBC.
"The money we are given is worth nothing as it has been refused and our children are dying because of hunger. I am just a labourer, I do not know what to do," she said.
Famine fears
Over the last three months, the value of Somali shilling has fallen dramatically from 17,000 shillings for $1 (50 pence) to 30,000 shillings for $1.
This has been blamed on the printing of vast quantities of the local currency on illegal presses.
Most people have limited access to US dollar notes, the only currency shopkeepers will accept.
Our correspondent says that both the transitional government and the leaders of the insurgents have ordered traders to accept both the old and new local notes.
But businesses argue that most of the old Somali shilling notes are worn out - they date back to before 1991 - and worth very little, and they blame the spiralling inflation on the counterfeit ones.
Last week, the UN Food Security Analysis Unit warned that the country was facing a major famine caused by prolonged drought and soaring food prices.
It said that half of the population would need food aid by the end of the year and that hyperinflation, the devaluation of the Somali shilling and the relentless armed conflict were making it more and more difficult for the urban poor to get enough to eat.
Source: BBC