Akufo-Addo's campaign drives into demonstration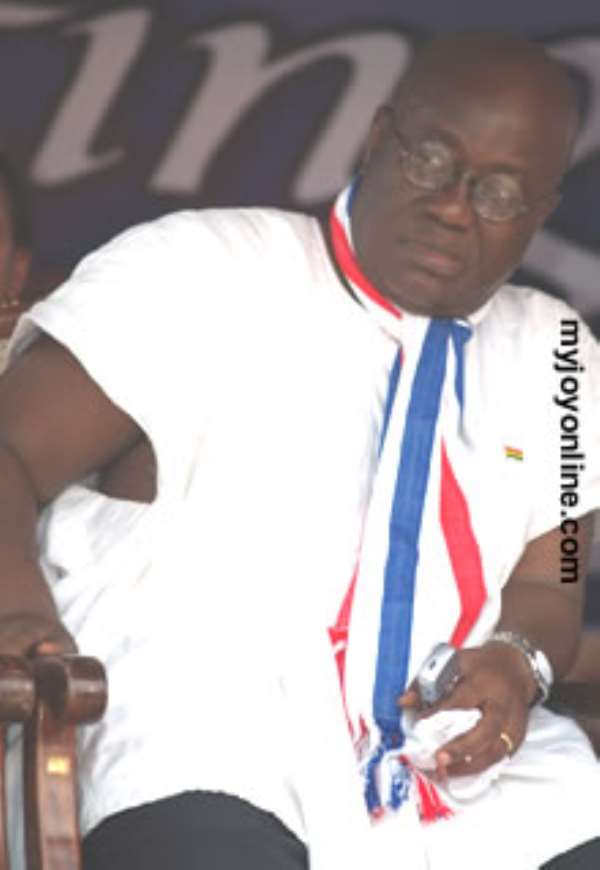 The Ghanaian Chronicle says the flag bearer of the New Patriotic Party (NPP), Nana Akufo Addo yesterday had a shock of his life when his presence at Sefwi Wiawso in the Western Region, was met with a demonstration by the local Ghana Private Road Transport Union (GPRTU).
And according to the paper, though the demonstration was not specifically targeted at him, it caused the flag bearer and his entourage some embarrassment.
The demonstrators, who were allegedly protesting against the presence of the Metro Mass Transit (MMT) buses in the area, burnt lorry tyres and blocked the major roads leading to the town. The embarrassing situation has compelled a rebel group in the NPP, simply known as "Kandaha" to call on the deputy Regional Minister, Mr. Kwesi Blay who is a native of the area to resign immediately from office.
Kandaha's contention is that Blay could have done something about the situation yet he sat down for the presidential candidate to be humiliated.
Speaking in an interview with The Chronicle, the chairman of 'Kandaha', Mr. Osafo Addy, who is also the regional financial secretary of the NPP, noted that they were calling on the Minister to resign because he had failed to ensure peace in the area.
"What 'Kandaha' is saying is that the Minister has contributed to embarrassing our Presidential candidate and for that matter we have sacked him from office," he said. In a telephone interview with Kyzz Fm, the Minister parried away claims by the group that he allowed Nana Akufo-Addo to be embarrassed by the said demonstrators.
The Minister claimed he had no control in stopping the said demonstration by the GPRTU group. Asked about the threats by the group to lock up his office, the Minister stated that "they can shut my office if they want to."
Meanwhile, pieces of information gathered by The Chronicle from the camp of 'Kandaha' indicates that the group was highly annoyed because the local chairman of GPRTU, Mr. Adu Kwasi, who led the demonstration is related to the Deputy regional Minister.
Adu Kwasi is also a government appointee to the local district assembly. Nana Akufo Addo is on a four-day campaign tour of the Sefwi area, which is regarded as the stronghold of the opposition NDC. The Presidential candidate is expected to introduce the NPP parliamentary candidates for the various constituencies.