250m Africans Lack Electricity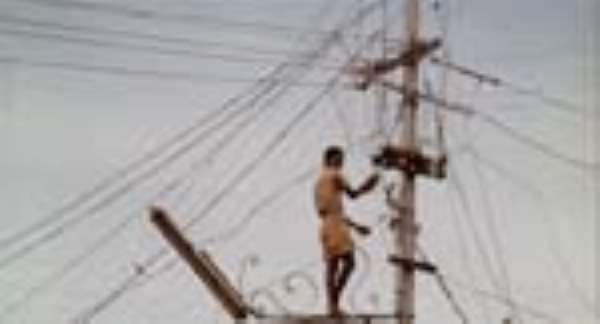 Ghana would today host the 2008 Lighting Africa Global Business Conference to develop appropriate and viable business models for delivering modern, clean and safe non-fuel based off-grid lighting solutions.
Lighting Africa is a joint International Finance Corporation (IFC) and World Bank initiative which seeks to provide by 2030, modern lighting to the 250 million people in Sub-Saharan Africa who lack access to electricity.
The event which ends on May 8 is expected to attract more than 500 representatives from governments, investors, financiers, private firms, end users, and development agencies to showcase and expand business opportunities for providing modern lighting services that are non-fuel based.
Lighting Africa is been supported by multiple donors, the Global Environment Facility, the World Bank's Public-Private Infrastructure Advisory Facility (PPIAF) and Energy Sector Management Assistance Program (ESMAP), Good Energies Inc., the Renewable Energy and Energy Efficiency Partnership, the European Commission, the Governments of Norway, Luxembourg, the Netherlands, and the United Kingdom.
A working document of the IFC of the World Bank made available to the press in Accra, explained that the Lighting Africa 2008 conference would give participants the unique opportunity to connect with global entrepreneurs from around the world.
It would also offer participants the opportunity to gain key insight and exchange knowledge, view the latest technological innovations and meet the people whose lives would be transformed by their efforts.
The Conference would also adopt modalities to shield African consumers from poor-performing lighting products and avoid market spoilage for the industry.
According to IFC, through the Lighting Africa, a wide range of activities to enhance consumer awareness and boost confidence in new lighting products and services would be initiated.
These activities range from the testing of solar lanterns in the market against existing quality standards, to the development of specifications for LED-based lanterns and the development of a proposed "fair trade" quality seal, in collaboration with the industry.
The IFC further noted that a kerosene lantern used for four hours per day is estimated to release more than 100 kilogramme of carbon dioxide into the atmosphere over the course of a year.
Lighting Africa has the objective of reducing GHG emissions and, at the same time, enhancing the financial viability of modern off-grid lighting projects for instance by offsetting the relatively high first costs, which substitute fuel-based lighting.
The conference will also include a lighting industry trade fair for companies to showcase the latest in products and technology advances and a Development Marketplace Grant Competition in which up to 20 winners will be selected for the design and delivery of innovative lighting products and services in the African marketplace.
The event takes place at the La-Palm Beach Hotel in Accra.
By Felix Dela Klutse