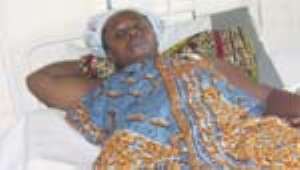 The Police at Goaso in the Brong Ahafo region have mounted a search for Kwaku Boakye Mensah, who allegedly shot his wife in the vagina.
The suspect as well shot and killed Kofi Anane, popularly called Wofa Hello, his brother-in-law, and then pumped bullets into the left arm of his younger brother, Kwame Kutin, aka Koo Sika
Currently the two injured persons are on admission at the Regional Hospital in Sunyani, after being referred by the Goaso Hospital.
Boakye Mensah, 47, fled after the shooting spree, and had since not been seen; but information available to DAILY GUIDE indicated that the suspect had vowed to shoot two other persons and then commit suicide.
Speaking to DAILY GUIDE from her sick bed at the Sunyani Hospital, Joyce Boakye, also known as Adjoa Frema Goaso said her husband became desperate, following her delay in accepting his proposal for them to come together again as husband and wife, after they had separated for over two years.
The victim, who could only pass urine through a tube, disclosed that her estranged husband had sent a delegation to her seeking for a re-union, but she told them to wait until after the burial of Boakye Mensah's father whose body currently lies in the morgue.
This, she believed, did not go down well with her impatient husband.
She said on that fateful day she was at home lying on her bed when Boakye stormed the room. After taking a look at her, he went out and returned, this time with a gun, whose muzzle he inserted into the hole of the damaged door-lock and pulled the trigger, firing straight into her vagina.
"After shooting me, he went further and shot his own brother and later killed my brother," she narrated.
Confirming the incident, Detective Chief Inspector Isaac Owusu of the Goaso Police told DAILY GUIDE that Boakye had shot the wife at Goaso and continued to a village called Ananekrom where he shot and killed his brother in-law.
According to Chief Inspector Owusu, Boakye, not satisfied with the number of casualties recorded, preceded to another village called Domeabra where shot his brother, shattering his left arm.
Explaining the circumstances that led to the tragedy, Joyce said a few years ago her husband abandoned her for another woman in Kumasi.
The new wife, she was told, had been beating her husband during numerous conflicts between them and feeling humiliated, he started making overtures to her.
From Simmons Yussif Kewura, Goaso