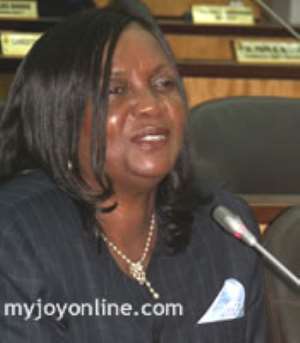 The Chief Justice, Mrs. Georgina Theodora Wood has expressed at the increasing number of court cases brought against loan defaulting clients by banks.
According to her to foster a good relationship with their customer, banks should revisit the borrowing regimes that currently exist in the institutions.
In speech read for her at the banking awards on Saturday, Justice Wood said the situation was not promoting investment in the country.
She said the 276 cases filed in 2007 alone do not reflect a healthy business relationship.
She said banks could use alternative dispute resolution mechanisms to settle their financial disputes with their clients instead of resorting to the courts.
The CJ also advised banks to simplify the principles surrounding some of the services they provide for customers.
She also stressed the need for them to avoid discriminating against ordinary customers in favour of corporate bank clients.
Story by Malik Abass Daabu