Microsoft walks away from Yahoo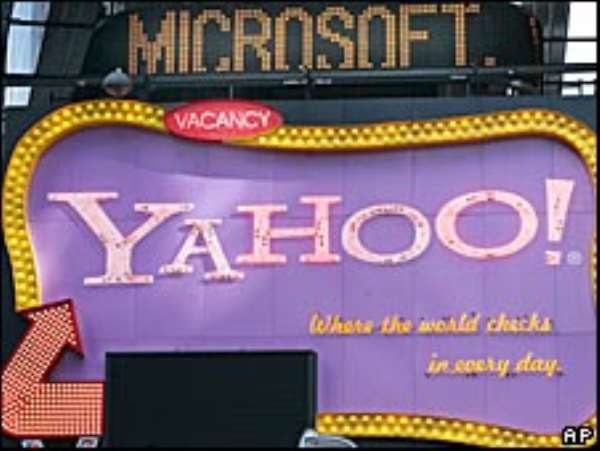 Software giant Microsoft has dropped its three-month-old bid to buy internet firm Yahoo because the two sides cannot agree on an acceptable sale price.
Microsoft chief executive Steve Ballmer formally withdrew the offer in a letter to Yahoo chief executive Jerry Yang.
Mr Ballmer said Microsoft had raised its original offer from $44.6bn to $47.5bn (£24.1bn) - $33 per share.
But he added that Yahoo had insisted on at least $53bn, or $37 a share - more than Microsoft was prepared to pay.
The software giant had wanted to do a deal to be able to compete with Google, which dominates the lucrative market for internet advertising.
This market was worth $40bn in 2007 and is predicted to double to $80bn by 2010.
'Distraction'
In his letter to Mr Yang, which has been posted on the Microsoft website, Mr Ballmer said: "We continue to believe that our proposed acquisition made sense for Microsoft, Yahoo and the market as a whole.
"Despite our best efforts, including raising our bid by roughly $5bn, Yahoo has not moved toward accepting our offer.
"After careful consideration, we believe the economics demanded by Yahoo do not make sense for us, and it is in the best interests of Microsoft stockholders, employees and other stakeholders to withdraw our proposal."
Mr Ballmer also told Yahoo's boss that he would not pursue his original plan B of launching a hostile takeover battle, because Mr Yang would "take steps that would make Yahoo undesirable as an acquisition for Microsoft".
Mr Ballmer told his own employees that Microsoft could achieve its goals without Yahoo, albeit at a slower pace.
Yahoo maintained that Microsoft had offered too little to buy the company.
In a statement issued after Microsoft's withdrawal, Yahoo chairman Roy Bostock dismissed the unsolicited bid as a "distraction".
Microsoft's shares closed on Friday virtually unchanged at $29.24. Yahoo's shares were $1.85 higher at $28.67 amid expectations of a higher Microsoft offer.
The BBC's Peter Bowes says analysts believe the breakdown in talks may have an adverse affect on Yahoo shares and generate uncertainty among investors about the company's management.