'I'm sorry' - Joe Baidoo-Ansah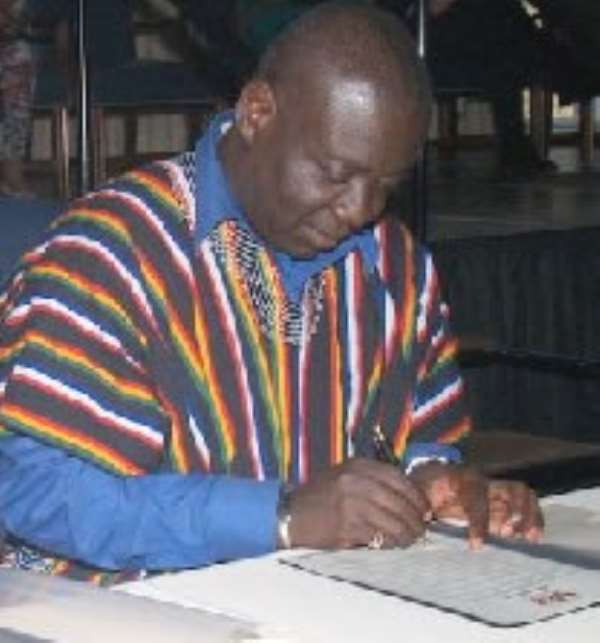 The Minister of Trade and Industry, Mr. Joe Baidoo-Ansah has apologised for disrupting Metro TV's live show, Good Evening Ghana, two weeks ago.
He said his intervention in the programme was regrettable, maintaining however that his opposition to Dr. Nii Moi Thompson's appearance on the show was justified.
Mr. Baidoo-Ansah was responding to queries from journalists about his conduct at the inaugural conference of the human rights reporters' network in Elmina.
Reporting from Elmina, Joy News' Sammy Darko said the Minister intimated he acted not as a Minister but as president of the United Nations Conference on Trade and Development (UNCTAD).
The Minister explained that his action was informed by the United Nations' principle of non-partisan discussions on its conference grounds.
According to him, Dr. Thompson's comments were partisan which violated the UN principle and which mandated him to intervene as the Accra UNCTAD President.
The programme was being held at the Accra International Conference Centre where the meeting was going on.
To buttress his point, he cited denying Morgan Tsvangirai of the Movement for Democratic Change in Zimbabwe from holding a press conference on the Zimbabwean situation on the UNCTAD meeting grounds.
He said although he regrets the action, it was in the best interest of Ghana.
The Trade and Industry Minister budged into a live broadcast on Metro TV to protest the appearance of a policy analyst, Dr. Nii Moi Thompson.
He argued the Dr. Thompson was using the programme to play politics instead of sticking to issues relating to the UNCTAD conference.
He particularly was reacting to Dr. Thompson's reference to plans by the Ghana government to acquire two presidential jets as lack of priority by African leaders.
For Mr. Baidoo-Ansah, the discussion was about the UNCTAD conference and aught to have been restricted to that.
His action drew widespread condemnation from sections of the public who contend the action of the Minister demonstrated his lack of appreciation for media freedom.
The Convention Peoples' Party (CPP), of which Dr. Thompson is a member, issued a statement calling for the immediate dismissal of Mr. Baidoo-Ansah.
The party contended the conduct of the Minister was an embarrassment to the country.
Story by Malik Abass Daabu