Presidency Not Popularity Contest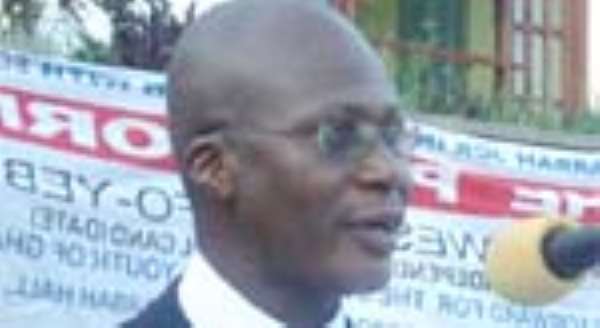 KWESI AMOAFO-YEBOAH, the only independent presidential candidate in the December 2008 elections, has stated that his reason for contesting the office of President is not to make himself popular but to help change the way of doing politics in Ghana.
"My candidacy has been dissected and analysed like no other.
Some have said I'm bored with my business; that I am in it for some publicity stunt. Some have even advised me to quit politics and donate my money to charity," he indicated.
Mr. Amoafo-Yeboah was delivering a lecture at "The Platform", a forum for all presidential candidates to interact with the students of the Mensah Sarbah Hall of the University of Ghana, Legon.

According to the independent candidate, the challenges that Ghanaian students were facing currently were not new.
"These are no new challenges; these are challenges we have faced for many years.
And these are challenges that require concerted effort from all of us at the same time in order to overcome them," Mr. Amoafo-Yeboah mentioned.
He said despite the taunt, he had never been discouraged because of the inspirations he continued to receive from students and others who believed that politics was about improving people's lives.
Mr. Amoafo-Yeboah was convinced that "some of us believe that it is not a game at all. It's about education, healthcare, employment and security. It is about real people."
He applauded government's efforts in the areas of macro-economic stability, the stabilization of the cedi, taming of inflation, improvement in basic infrastructure such as feeder and trunk roads, the National Youth Employment Programme and the National Health Insurance Scheme.
"These are real efforts. They are real attempts to improve our people's lives. However, when we try to ask why we are not feeling these 'positive effects' that is when the trouble begins. This is why the finger pointing starts…the blame game. That is where we see our division.
"But when you really think about it, when the fingers are retracted, we find that we still have the same challenges and they are common challenges," Mr. Amoafo-Yeboah stated.
He declared his contest for the Presidency because "I believe this is Ghana's time. This is no Party's time.
It is time for us to come together as one people with a common bond of citizenship, common ideals, common goals and aspirations headed for a common destiny."
By Wisdom Peter Awuku