Coca-Cola Light ACCRA FASHION WEEK 2008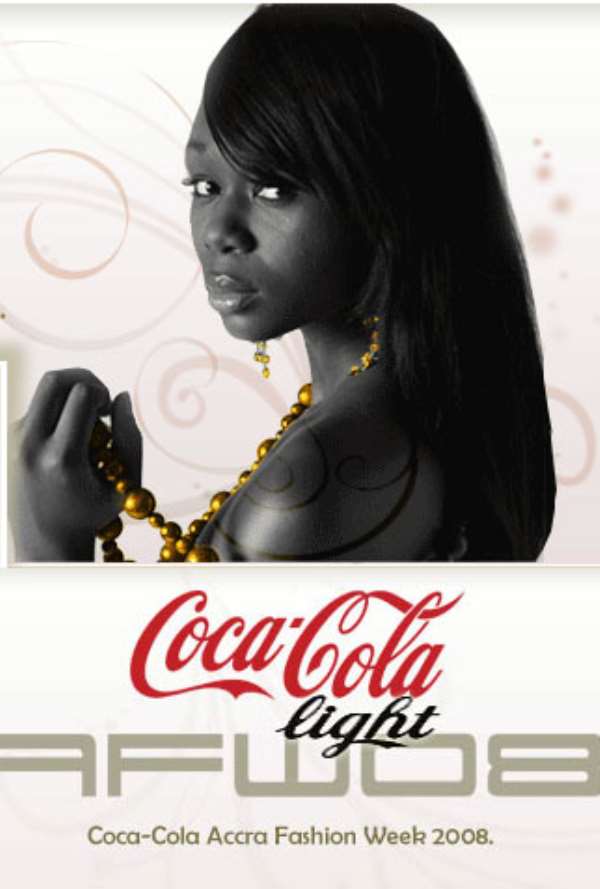 Sheer glitz and glamour will rule as the capital is caught in the glitzy grip of Coca-Cola Light Accra Fashion Week 2008(CCLAFW08) scheduled for the La Palm Royal Beach Hotel from Tuesday the 1st day of July to Sunday the 6th day of July 2008.
CCLAFW is a trade event open to registered buyers, press, members of the fashion industry, socialites and a cross section of the general public.
The vision of CCLAFW, far away from the hype, the lights and the glamour of the catwalk, is the business of fashion; and acting as the promotional vehicle for export and employment growth in the clothing and textile industry in Ghana. Coming at its 50TH independence anniversary, Ghana's heritage as the gateway for many international visitors to Africa and its eclectic blend of different cultures make it the ideal meeting place for one of the most dynamic and diverse groups of creative talent.
Coca-Cola Light Accra Fashion Week is an excellent opportunity for Ghanaian designers (and a few international) designers to show off their upcoming collections. The fashion shows are invitation only-designers and sponsors are responsible for the guest list. The shows are entertaining, accompanied by loud, mood-setting music and changing lighting.
The press writes about and photographs the runway collections for newspapers, magazines, internet and television so the general public can see what is going on in fashion.
The exhibition at CCLAFW08 is an easy to navigate booths at the La Palm Hotel, housing the static displays to ensure a stress-free luxury shopping experience.
CCLAFW08 presents six days of fashion extravaganza-beauty consultations, hair demonstrations, makeovers, seminars and fashion shows are all part of the experience.
Visit http://www.accrafashionweek.com for further details.
Welcome to Coca-Cola Light Accra Fashion Week 2008. Your Style. Your Way.