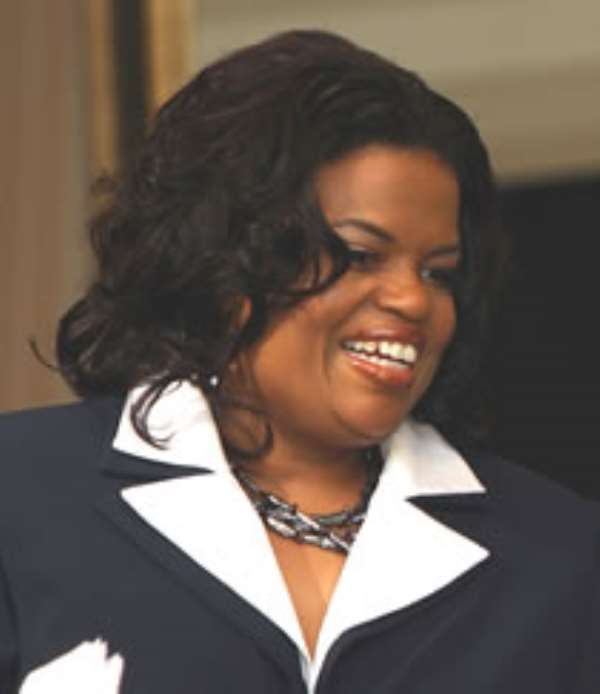 Lady Rosa, the new wife of Archbishop Nicholas Duncan-Williams, head of Christian Action Faith Ministries was at the seat of government at the Osu Castle, Wednesday to meet President Kufuor.
Mrs. Rosa Duncan-Williams, whom the Archbishop instructed his church members to refer to as Lady Rosa was at the Castle on business. She went to the Castle to introduce the executives of a textiles company from the United States of America.
The company 1888 Mills Incorporated was in the country to explore possibilities for investment.
At the meeting with the president, the Director of Global Strategy and Sustainability of the company, Mr. Chris Motley proposed to invest US$30 million in the country by the end of the year.
In discussions with the President, Mr. Motley said, his company has done extensive research on the textiles industry in Ghana, and has found out that there have been more failures than successes, however, the company finds Ghana as the investment destination of choice in Africa.
Lady Rosa, who is the CEO of The Whitaker Group, a strategic consulting firm in the US which focuses on Africa, was also the first ever Assistant US Trade Representative (USTR) for Africa in the administrations of Presidents George W. Bush and Bill Clinton.
In this capacity, she developed and implemented the African Growth and Opportunity Act (AGOA) and other bilateral and multilateral trade policy initiatives toward Africa.
She also started USTR's Office of African Affairs (OAA) and was the lead US negotiator for trade agreements with African countries.
Lady Rosa's marriage to the Archbishop Duncan-Williams, which is his second marriage after divorcing his first wife of 26 years, Francisca, with whom he has four children, has continued to generate debate in the country and elsewhere, over the propriety of the archbishop's decision to divorce and remarry.
By Emmanuel K. Dogbevi