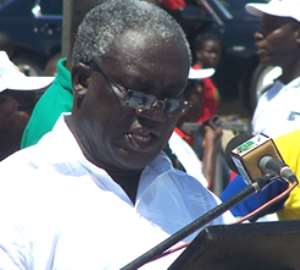 The Acting Secretary-General of the Ghana Trades Union Congress (TUC), Mr. Kofi Asamoah says the workers of Ghana will not accept politics of insults during this year's elections.
He said any attempt by any political party or parties to incite violence in the country will be resisted by the labour unions in the country.
Mr. Asamoah was speaking at this year's May Day celebration at the Independence Square in Accra.
This year's celebration was on the theme: Deepening Democracy in Ghana; The Role of Organised Labour.
He said organised labour will also resist any attempt to subvert the country's Constitution as well as any economic policies that have the potential to aggravate the precarious economic conditions of workers.
According to him, there was increasing incidence of economic policies that allowed only enclaves of the population to benefit.
He stressed the need for managers of the economy to formulate and implement policies that ensure the greater majority of the people benefit.
The actg. TUC boss expressed labour's disappointment at the government's accession to the interim Economic Partnership Agreement (EPAs) with the European Union.
He said the agreement exposed the country's businesses to unfair competition with its attendant problems.
Mr. Asamoah was also unhappy with a Fast Track High Court decision that allowed employers to fire their employees without any explanation.
The decision, he said was undermining efforts by labour unions to ensure fairness for their members.
He called on the government to facilitate the passage of the Right to Information Bill and the broadcasting law to further advance the country's democracy.
The ceremony attracted all affiliate bodies of the TUC.
Story by Malik Abass Daabu