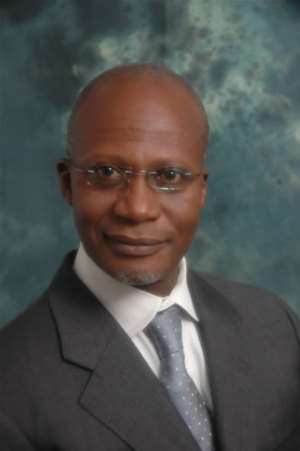 Independent Presidential Candidate Kwesi Amoafo-Yeboah has urged all his supporters not to be disturbed by what seems to be a deliberate attempt by governance institutions and other agencies to refuse him equal platform to inform the electorates with respect to his policies and agenda. According to him, the fact that he is denied equal platform by such organizations does not imply that he is not qualified to contest the December elections.
Speaking at a Regional Representatives Conference organized in Accra, Kwesi Amoafo-Yeboah reiterated his seriousness to contest the 2008 general elections as an independent presidential candidate and called on the regional representatives to remain resolute to the course.
"To be honest with you, it has been a rough road filled with potholes of cynicism and doubt, but I believe when we keep rolling along knowing that if we continue to spread our message of unity, our message of change and our message of hope and prosperity, then we can change the minds of Ghanaians one person at a time"
The regional conference held over the weekend had two representations from each region. The aim was to assess strategies of the campaign with focus on the campaign message.
Amoafo-Yeboah disclosed that he will now remain focused on his campaign and how best to convey his message to the doorsteps of the electorates instead of spending time to call for equal platforms and opportunities to disseminate his message.
He noted that no matter how much time he spends calling for equal platforms, there are those who are convinced that an Independent can never be successful and proceed to put impediments and road blocks in the way to make it difficult. According to him, such individuals and organizations would rather not see any public forum where independents and party flagbearers, together, exchange ideas and debate issues of national concern.
Regional representatives pledged their commitment to be part of the history making process by spearheading a vigorous and strategic campaign that will lead to an independent presidency in Ghana. They acknowledged the fact that, the task though difficult is not impossible.
A representative from Ashanti Region, Alhassan Issaka said it is clear most of the people who really dictate winner of an election and do not have any political party affiliations are fed up with the party system hence the need for a total radical change.
"Floating voters have realized that when it comes to political parties, they are all the same. When they are in opposition they criticize all the policies of the ruling party. However, when they are in office, they are able to justify all their policies and expenditure. The value is the same," acknowledged Alhassan Issaka.
A representative from the Volta Region, Emmanuel Atukpa stated that though the region is seen as a stronghold of the NDC, Kwesi Amoafo-Yeboah's message of seeking for neutrality at the top to help harness the power of collective brain power of Ghanaians to concentrate it on solving the crucial problems facing the nation is resonating well with the people.
Solomon Shaibu from the Upper East region disclosed that he has already networked with all the districts in the region having members supporting kwesi Amoafo-Yeboah. According to him, the uniqueness of the message made it simple for the electorates to associate themselves with Mr. Amoafo-Yeboah's view.
All the other regional representatives took turn to express their belief in Amoafo-Yeboah's agenda and explained how disappointed they are with the political party system making reference to issues such as too much polarization in the system, playing the blame game card and too much party cronyism in government.