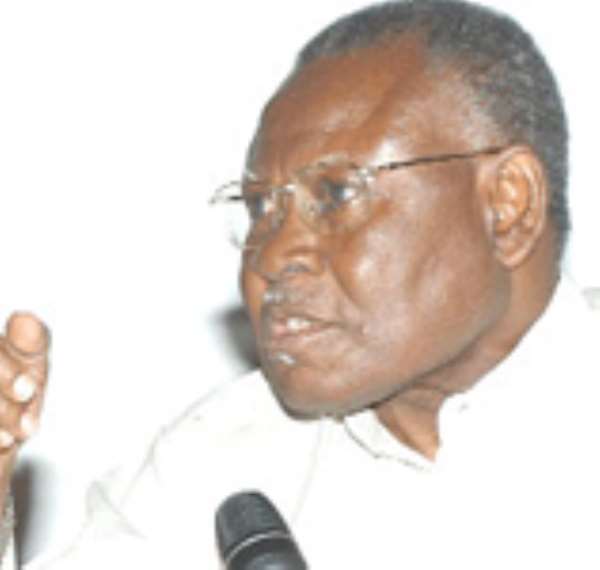 Mr. Joseph Henry Mensah, Member of Parliament for Sunyani East and a leading member of the governing New Patriotic Party, has cautioned that the NPP stands on the precipice of political wilderness or consolidation and can make a major mistake in judgment if it fails to learn any lessons from its long years in opposition.
According to the NPP guru, he feels compelled to draw the attention and remind every party member to the tragic lessons of the party's own history, cautioning, NPP must be above self or any individual.
He adds, "I fear that too many who influence our party do not sufficiently appreciate the value of its heritage, or the delicacy of the political power that is in our hands today."
In an article copied to The Statesman, the former Senior Minister reminds the party how the Danquah-Busia tradition was in political wilderness for over thirty years until NPP, the offshoot, won the 2000 general election arguing that "To have power in your hands is like having a fresh egg in your palm. If perchance you should drop it, it shatters and is gone for ever."
Tracing the NPP's roots to the formation of the United Gold Coast Convention in 1947 at Saltpond, Mr Mensah said Danquah and other heroes believed and fought for the rights of personal liberty for black Africans within an orderly framework of an indigenous society.
Paying glowing tribute to Awoonor-Williams and Blay, Dr Armattoe, S.G. Antor, S.D. Dombo, Kabachewura, Abayifa-Karbo, K.K. Taylor, Baffour Akoto, Paa Grant etc, the MP for Sunyani East stressed the need to teach the present "leading party members" the sacrifice and struggle the forbearers went through to advance the cause of the Danquah-Busia tradition and implanted the 'Domo' tradition deeply into the Ghanaian politics without any gain of treasure or political office.
"The first asset of the Danquah-Busia tradition is the power of the blood, the spirit and the treasure which our forebears lavished on this cause," he emphasized.
According to the former senior minister, the champions of today who demand a share of authority over the affairs and destiny of the Danquah-Busia tradition do so on the basis of something they claimed they have done for the NPP since 1992 adding that, "A properly modest appreciation of our own, forebears would help tame the destructive egoism of these latter-day champions."
"It is a delusion for any individual or faction to imagine that they can replace the party or prosper politically outside it. Anybody who cares to benefit from our political experience should study the tragic career of the late Joe Appiah, everybody's beloved Papa Joe of 'Domo'; he tried to play for himself once too often, and thereafter he disappeared from the frontline of Ghana's history," J.H. pointed out.
On this year's general election, Mr Mensah noted that the task is to secure the renewal of the party's mandate in government and admonished that the party concentrates "on the supreme task that is before us this year and relegate all distractions to the background."

He further advised, "During the coming 2008 elections we desperately need for every stalwart to rise and lavish wisdom, money, and devotion on a resurgent Danquah-Busia tradition, without demand of personal reward. After all, the party has already elected its flagbearer; its rank and file will only respond to a selfless commitment of the entire leadership cadre behind the chosen flagbearer."
Proffering the way forward, Dr KA Busia's youngest Minister urged the NPP to avoid the temptation of what he calls "sloppy organization" and to also ignore the "pretensions of all those pampered egos whose only ambition is to claw their way into positions where they can be called 'honourable' or 'Excellency.'