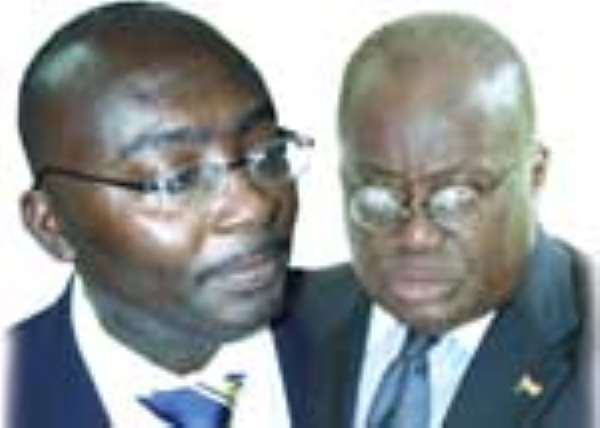 The list of possible partners to the New Patriotic Party (NPP) presidential candidate, Nana Addo Dankwa Akufo-Addo has increased by one, as the name of the Deputy Governor of Bank of Ghana pops up.
DAILY GUIDE has learnt that Dr. Mahamadu Bawumia is now part of the NPP dream team, which is expected to return the party to power when the country goes to the polls on December 7, 2008, as a possible running mate to the flagbearer.
With strong United Party (UP) background, Dr Bawumia joins the list of possible partners at a time when the names had narrowed down to Dr. Mohammed Ibn Chambas, ECOWAS Commission President; Alhaji Boniface Abubakar Saddique, Minister of Water Resources, Works and Housing; Alhaji Nurudeen Jawula, Chief Director, Ministry of Health; Alhaji Rasheed Bawa, Ghana's Ambassador to Saudi Arabia; and Alhaji Malik Alhassan Yakubu, Second Deputy Speaker.
Dr. Mahamadu Bawumia, an old boy of Tamale Secondary School in the Northern Region is said to be a very brilliant young man who has taken part in major innovations at the country's apex bank.
He was appointed Deputy Governor by President John Agyekum Kufuor in March 2006.
President Kufuor once remarked to him, "I learnt you are very brilliant."
Dr Bawumia obtained his Bachelor's (First Class Honours), Masters and PhD degrees in Economics from Buckingham University UK, Oxford University, Lincoln College, UK and Simon Fraser University, Canada, respectively.
He also holds a Diploma (ACIB) from the Chartered Institute of Bankers, United Kingdom.
His research interests are in the areas of Monetary Policy, Exchange Rates and Economic Growth.
Prior to joining the Bank of Ghana, Dr Bawumia was on the Faculty of Baylor University, Texas as Assistant Professor of Economics from 1996 to 2000.
He has also worked as an economist in the Research Department of the International Monetary Fund, and has published several articles in internationally referred journals as well as book chapters.
DAILY GUIDE learnt that the e-zwich card that was launched by the President was his brainchild in order to mop up excess liquidity.
His father was the late UP veteran politician Alhaji Mumuni Bawumia, who was one of the earlier members of the Northern People's Party which metamorphosed to the United Party and now New Patriotic Party.
The late Alhaji Bawumia was the Chairman of the Council of State under the National Democratic Congress (NDC).
This new development appears to have added to the burden of making a final decision on who partners Nana Akufo-Addo.
Bawumia's lobbyists, made up of strong and influential individuals, believe that he has what it takes to retain power for the NPP.
DAILY GUIDE has learnt that the presidential candidate abhors the pressure some of the hopefuls are mounting on him through, in some cases, the intervention of chiefs and opinion leaders.
Someone in the party quipped: "There is too much noise from some of the hopefuls but I think a grey horse would make it."
Alhaji Rashid Bawa, Ghana's Ambassador to Saudi Arabia who has chosen the low-key approach to the quest is said to be one of the favourites even though not much noise has come from his side.
With so much ministerial experience, he is said to have added to his CV the diplomatic service which he has been rendering for some time now.
With some 12 countries under his Riyadh-based office in Saudi Arabia, Rashid has built remarkable confidence and experience since he assumed office as Ghana's envoy to the oil-rich country.
Dr. Mohammed Ibn Chambas, the Economic Community of West African States (ECOWAS) President is one of the names in the race.
With a rich experience in politics, Dr. Chambas served as Deputy Minister of Foreign Affairs as well as Education under the NDC administration for many years.
The respect he wields cuts across party lines. He hails from Bimbila in the Northern Region where his late father was an important politician and opinion leader.
Dr. Chambas was not a favourite of Mr. Jerry John Rawlings, NDC founder, in the days when he straddled across the party like a Colossus.
Many Ghanaians especially wondered why Dr. Chambas was not made a substantive Foreign Affairs Minister, a position Mr. Rawlings preferred to reserve for his favourites.
There was no doubt that Dr. Chambas justifiably got frustrated with the treatment he received from the NDC, a party he served for many years.
He exhibited maturity in his management of affairs in the party, avoiding the usual bravado and rashness associated with others in the political grouping.
The end for Dr. Chambas' association with the NDC came when the opportunity came for him to seek President Kufuor's endorsement for the ECOWAS top job.
President Kufuor was forthcoming with the support, which DAILY GUIDE learnt he provided with all his heart.
Dr. Chambas got the job and has since not turned back in his respect for the man whose support made it possible.
It has been observed that anytime he comes visiting home, he does not forget to go and pay obeisance to the man he considers his mentor.
Dr. Chambas, who served for two terms as Bimbila MP, attended Tamale Secondary School, Mfantsipim School, University of Ghana and Cornel University in the US.
He too has not been noisy and in fact, but for newspaper speculations, has not even spoken about the subject.
Alhaji Boniface, Minister of Water Resources, Works and Housing is also one of the names making the rounds.
He was also an NDC personality, a party in which he was stung several times through intrigues.
He was pursuing further studies in Exeter in UK when a request was sent to him to come home and vie for the position of MP in Salaga where he hails from.
On his return however, his sponsors reneged on their promise and eventually abandoned him.
He won the Salaga seat as an independent candidate and finally found a home in the NPP and has since then proved his loyalty, having represented the Salaga constituency for his newfound party for the second consecutive time.
He is adored in Salaga where he is fondly called "Boni". He is an old boy of Tamale Secondary School.
Lepowura Jawula, who is now a chief in Gonjaland, also has NDC links. Now an NPP person, he is more known in soccer circles as an administrator.
He is a former Chairman of the Ghana Football Association (GFA).
Also an old boy of Tamale Secondary School, he is said to be looking forward to the call to partner Nana Addo.
Whoever emerges as the running mate to the NPP presidential candidate would be expected to attract more votes, especially from the floating voters, to the fold of the party.
Nana Akufo-Addo has so far avoided speaking about who would partner him.
By A. R. Gomda